Young people and leaders honored at annual ONE Awards Banquet
---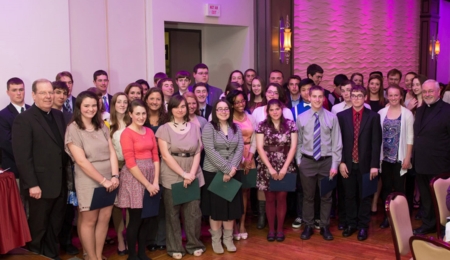 Recipients of the Discipleship Award pose with Vicar General Msgr. Robert P. Deeley and Father Arthur Coyle. Pilot photo/ George Martell, Pilot New Media
RANDOLPH -- The Office for the New Evangelization of Youth and Young Adults (ONE) honored 120 youth, young adults, and their leaders in ministry from 46 parishes and schools throughout the Archdiocese of Boston at an awards banquet on May 2.

At Lombardo's in Randolph, ONE presented awards to honor Catholic youth, young people, and leaders for their work in middle schools, high schools, scouting, Catholic schools, and youth and young adult ministries.

"This event tonight is extremely inspiring. It is one of the highlights of the year because you see so many young people and their leaders come together in a celebration of what God is doing, in and through their lives," ONE director Father Matt Williams told The Pilot.

The evening began with a blessing from auxiliary Bishop Peter J. Uglietto, before dinner, and presentation of the awards.

"There is probably no more worthwhile an endeavor than encouraging young people in their faith and in their sense of service as disciples of Christ. To serve, to serve others, to serve the mission of the Church, and to serve in their local communities helps them identify who they are as Catholic Christians, and come to know people who can support them in their life remaining faithful to what it means to be a Christian," Bishop Uglietto told The Pilot.

Father Williams described each of the awards for the gathering, before reading a brief summary of the work of each of the recipients.