From Cardinal Seán's blog
---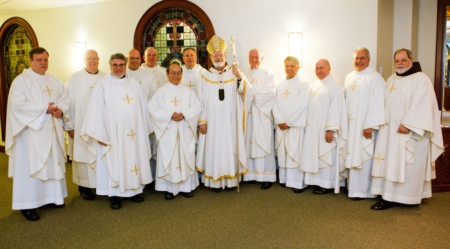 'On Wednesday (May 9), we had twelve priests celebrating their 25th Jubilee. They were here at the Pastoral Center for the noon Mass. Combined, their work provided 300 years of ministry to God's people. We thanked them for their generosity and urged everyone to pray for vocations.' Pilot photo/Gregory L. Tracy
Last Thursday (May 3), I celebrated a Mass for the Catholic School Foundation's second class of CSF Scholars. These are children who are receiving scholarships as they graduate from our Catholic primary schools, so that they can continue on to Catholic high schools. At the Mass they are given a pin to honor their achievement.

The Class of 2016 CSF Scholars met those who were inducted into the program at last year's event. After Mass, we had a reception in the gym of Cathedral High School, and of course their families were all very happy to be able to be a part of this wonderful program.

'The Suffering of the Innocents'

(Sunday), I headed over to Symphony Hall for Kiko Arguello's "The Suffering of The Innocents," conducted by Pau Jorquera.

The event was a catechetical celebration that included the Symphonic work that focuses on the suffering of Mary under the cross, as a prime example of the suffering of the innocent in the world who can share their pain with Mary's pain under the cross.

To me, the most moving moment came when Kiko spoke about the suffering of the Jewish mothers, who would have been praying the Shema as their children were being led to the gas chambers, and that Mary certainly would have been praying that same prayer at the foot of the cross. Then he invited everyone at Symphony Hall to stand and sing the Shema. I found that very moving.