Archidiocese marks Memorial Day with video on chaplains
---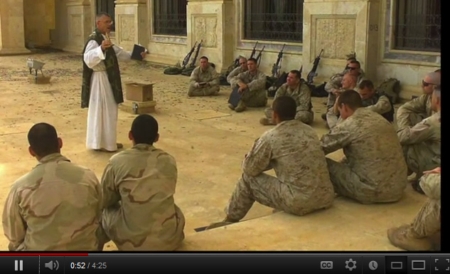 BRAINTREE -- This Memorial Day, as our nation salutes the courageous men and women of our armed forces, the Archdiocese of Boston celebrates and offers thanksgiving for the priests from the archdiocese who serve alongside American troops as military Chaplains.
"Recognizing the great need for Chaplains, the Archdiocese of Boston is proud to be able to provide priests for this important ministry," said Cardinal Seán P. O'Malley. "In times of war and peace, the military relies on the pastoral care and supportive presence of our priest Chaplains. This Memorial Day we pray for all those serving in the armed forces and in particular remember those who have given their lives for our country and our freedom. May God grant them eternal rest and peace."
The Archdiocese of Boston is one of two leading U.S. dioceses providing priests for military service. Since WWII, more than 300 of Boston's priests have served as military Chaplains, with twelve Boston priests currently in active service, including seven fulltime.
"Our nation is blessed to have priest Chaplains continuing the long-standing tradition of serving the men and women of our military," the cardinal said
The Catholic Appeal team for the Archdiocese produced a video tribute to honor our military Chaplains and spread awareness of this special ministry. The video is narrated by two priests of the Archdiocese of Boston, Reverend Richard M. Erikson, Ph.D., Brigadier General, USAFR, and Reverend Michael B. Medas, Chaplain, Major, Air National Guard. The video is available
here' target='_blank'>www.youtube.com/watch?v=fcPc2SKACyE&feature=youtu.be">here
.
"The Archdiocese of Boston has been blessed through the years with archbishops who have been deeply committed to the pastoral care of our troops and priests who have served courageously as military Chaplains," Father Erikson said.
Page 1 of 2