Danvers pastor Father Dorgan granted senior priest status June 5
---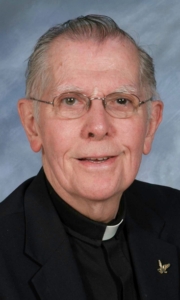 Father Gerard Dorgan Pilot file photo
DANVERS -- Although Father Gerard Dorgan, the pastor of St. Mary of the Annunciation Parish in Danvers for the past 21 years, is "retiring" as of June 5, he hopes to continue ministering at Beverly Hospital, as well as the hospice house operated by his parish.

"It's a busy life, but it's a happy life," Father Dorgan said.

Father Dorgan was born Oct. 12, 1933. The youngest of four siblings, he is a son of St. John Parish in Peabody. He attended St. John's Seminary and was ordained in 1958 at the Cathedral of the Holy Cross by Cardinal Richard Cushing.

His first assignment was at St. Margaret Mary Parish in Westwood, where he was parochial vicar. After only seven months, he became part of the faculty of Cardinal O'Connell Seminary in Jamaica Plain, a college seminary for men entering the priesthood, where he taught English, as well as public speaking.

"When people think of a seminary, they often think of the years of theology men study after they have their undergraduate degrees," he explained. "This was a college seminary, which means that the men who came to study here were getting their undergraduate degrees here before going on to study theology."

When the college seminary was merged with St. John's Seminary in Brighton in 1968, Father Dorgan became a professor at St. John's. He taught there until 1991.