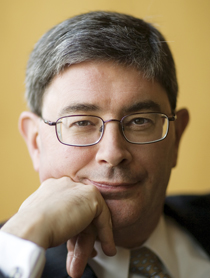 Charles W. Colson, R.I.P.
---
May 16, 2012 -- Back in the days when Chuck Colson was willing to run over his grandmother for Richard Nixon, I would have happily done the same to Mr. Colson. Well, that was then, and this is now. And over the past 20 years, I never met a more thoroughly converted Christian, a more ecumenically serious Christian, or a more tenacious Christian than Chuck Colson, who died on April 21. He was a man whom I came, not just to respect, but to love.
Our friendship and collaboration began in the early 1990s, when Herb Schlossberg, the evangelical author, buttonholed me at a Washington reception and expressed concern about the ongoing fracture between Catholics and evangelical Protestants, two communities that Herb thought should be working together to shore up America's public culture. I mentioned Herb's concern to Richard John Neuhaus; Neuhaus called Colson; and within a matter of months "Evangelicals and Catholics Together" was born.
What began as co-belligerency in the American culture-war soon evolved in ways none of us had anticipated. Led by Neuhaus and Colson, and prodded by such towering intellects as Avery Dulles, S.J., and J. I. Packer, "ECT," as we called it, developed into what was arguably the most important theological encounter ever between evangelical Protestant and Catholics. Issues that we had once imagined completely off-the-table--Mary; the communion of saints; justification--were not only broached but examined, pondered and prayed over. And the result was not only a deepening of fellowship but a refinement of thought. That a leading evangelical theologian should today be working on a book on Mary-for-evangelicals says something about the miles traveled, and the centuries of misunderstanding bridged, in those conversations.
ECT returned to the culture-wars in 2010, this time in defense of religious freedom. And just before Chuck Colson died, the U.S. bishops' Ad Hoc Committee on Religious Liberty commended and cited the ECT statement, "In Defense of Religious Freedom," that Chuck had helped push to completion.
Life with Chuck Colson also involved adventures. My favorite took place in Rome, about 10 years ago. At a conference held in the old Synod Hall of the Apostolic Palace I ran into Colson, who asked if I might do him a favor. Obviously, I replied. Well, Chuck said, he had met John Paul II on several occasions, but his wife, Patty, a Catholic, had never met the pope and would be ecstatic if that could be arranged. Nothing easier, I said--at which point Chuck asked if he could bring along another Major Evangelical Figure (as I shall discretely style him) and his wife. No problem, said I.
Page 1 of 2