From Cardinal Seán's blog
---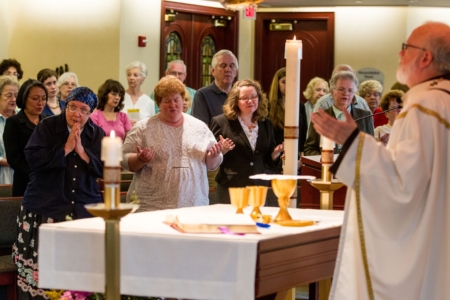 'Friday (5/25), at the Pastoral Center, we gathered at the daily noontime Mass with the consecrated virgins of the archdiocese, followed by a luncheon for them.' Pilot photo/CardinalSeansBlog.org
I want to begin this week by offering a word of congratulations to Bishop Richard Malone, who was of course formerly an auxiliary bishop of Boston and then Bishop of Portland, Maine. Just this week he was appointed by the Holy Father to be the bishop of Buffalo, New York, which is a very large diocese. We congratulate him and ensure him of our prayers and best wishes. We will also pray for the Diocese of Portland, which is now awaiting the appointment of their new bishop.
Dinner for retired priests
Last Thursday (5/24), I was pleased to attend the annual dinner sponsored by the Order of Malta for our retired priests at the Boston College Club. The club is located in Boston's financial district and has a spectacular view of the city and the harbor. There were about 100 people there for the dinner. As always, the evening was very entertaining. Music was provided by a corps of Irish bagpipers, as well as former state treasurer Bob Crane and his singing group, "The Treasury Notes." Dick Flavin delivered a couple of very funny monologues about baseball and politics. Father Richard Fitzgerald sang "Southie Is My Hometown" to the delight of the Boston priests. It was a beautiful evening and a great sign of the affection and gratitude that the Catholics of the archdiocese have for their retired priests who have served so mightily, and who continue to serve in many capacities.
Mass with consecrated virgins
Page 1 of 2