Obituary: Msgr. William H. Roche, 90, served at the cathedral for over 30 years
---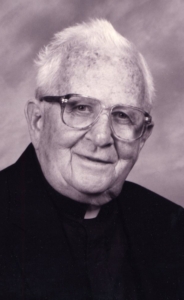 Msgr. William H. Roche Pilot file photo
Msgr. William H. Roche passed away peacefully in his sleep at the archdiocese's Regina Cleri residence for retired priests May 28. He was 90 years old.
Born in Woburn on Nov. 14, 1921, he was the son of the late William H. and Marguerite (Manning) Roche, and the brother of Janice Salvesen of Winthrop, and the late Virginia Slade-Murphy and Richard Roche.
He attended St. Charles Elementary School in Woburn, and was a graduate of Keith Hall in Lowell. Following high school, he continued his education at Boston College, receiving his degree in 1943.
Immediately following his graduation from Boston College he joined the U.S. Army, serving as a paratrooper in the OSS, the military's intelligence agency. Serving as a captain, his missions were often secretive and he spent a great amount of time behind enemy lines, particularly in China.
When Msgr. Roche returned home, he entered St. John's Seminary and was ordained by Cardinal Richard Cushing on May 3, 1950 at the Cathedral of the Holy Cross.
He began his priestly ministry as a temporary assistant at St. Mary's Church in Chelmsford, remaining there for only about 10 months. In February 1951 he began a 20-year assignment with the Catholic Boys' Guidance Center in Boston -- nine years as assistant director and 11 years as director. Founded by Msgr. Thomas McNamara in 1946, the center housed up to 40 children from ages 11 to 16 with emotional disabilities.
As director, Msgr. Roche oversaw the center's move from its original location in The Fenway to Tilden Road in Scituate, where facilities were greatly expanded and renamed Cushing Hall. The center closed in 1985.
On April 6, 1964 Pope Paul VI named him to the papal household when he appointed him a domestic prelate (now a prelate of honor) with the title of right reverend monsignor (now reverend monsignor).
In February 1971 he began a 25 year assignment as parochial vicar at the Cathedral of the Holy Cross. During his time at the cathedral, Msgr. Roche was known for his ministry to those in need including the homeless, but particularly the elderly.
Page 1 of 2