Boston rally urges respect for religious freedom
---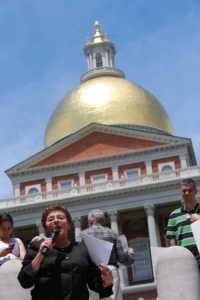 Janet Benestad, director of the Office of Faith Formation and Evangelization for the Archdiocese of Boston speaks at the Stand Up For Religious Freedom rally June 8 on Boston Common. Pilot photo/ George Martell, Pilot Media Group
BOSTON -- Hundreds gathered on Boston Common across from the State House on June 8 for the Stand Up For Religious Freedom rally that coincided with 160 simultaneous rallies in cities across the United States.

Former mayor of Boston and ambassador to the Vatican Raymond Flynn kicked off the rally by invoking the tradition of defending American rights on that very spot.

"You know I have been in politics now a little more than 50 years and I cannot imagine that in the year 2012 we would be once again gathered here fighting for our religious freedom, but here we are. It goes to show you that every once in a while, we have to be really active in defending what our values are and our beliefs," Flynn said.

Organized locally, and coordinated nationally by the Pro-Life Action League in Chicago and Citizens for a Pro-Life Society in Michigan, the rallies channeled voices in opposition to the decision by the U.S. Department of Health and Human Services to require most Catholic organizations and employers to provide health plan coverage for contraceptives, sterilization and some abortion-inducing drugs or face stiff fines.

Flynn observed that the political implications of such rallies, taking hold locally and nationally, sends a message well past the steps across the street from Beacon Hill.

He recalled thinking that morning that "it really doesn't take a lot of people to make a movement."