Priests discuss pastoral planning at convocation
---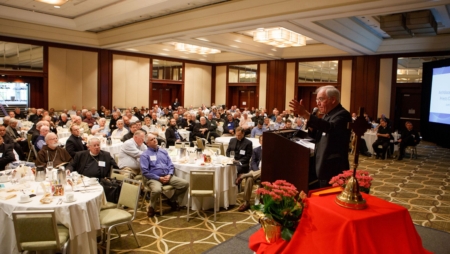 Bishop Richard Malone delivers his keynote address at the annual Priests Convocation June 7. Pilot photo/Gregory L. Tracy
WALTHAM -- More than 250 priests of the Archdiocese of Boston discussed the role of pastoral planning in the New Evangelization at the 2012 Annual Priest Convocation held at the Waltham Westin Hotel June 7.

Speakers focused talks and discussions on the need for change as the archdiocese and the Church move forward in ministry.

The former Bishop of Portland, Maine, Bishop Richard J. Malone welcomed the opportunity to open the convocation for the Boston presbyterate before he heads to his new assignment as Bishop of Buffalo. The Salem native served alongside many of the men at the convocation, as a priest for 28 years and as an auxiliary bishop of Boston for four years.

Under Bishop Malone's leadership, the Portland Diocese undertook a restructuring strategy to preserve its ministries. He stressed the need for positive, flexible and hopeful attitudes amongst priests as Boston moves to address its own pastoral needs.

"I do want to affirm how crucial your role is. Nothing good will come of this project without the highest quality of pastoral leadership offered by each one of you," he told the priests.

Bishop Malone spoke about how the thrust for evangelization must direct pastoral planning.

"It is so important to have the lamp of the New Evangelization shining brightly on all the aspects of this pastoral planning process," he said.