June 30 deadline looms for pro-life license plates
---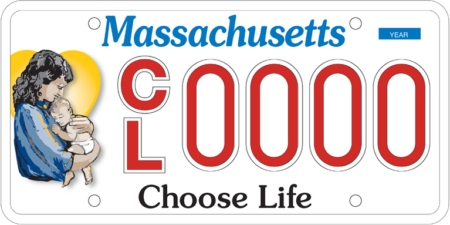 WAKEFIELD -- Before Choose Life, Inc., an organization which offers the "Choose Life" license plate in Massachusetts, can distribute any more funds to support pro-life non-profits they need to get 378 more registered Choose Life license plates on the road.
The Registry of Motor Vehicles is holding a $100,000 insurance bond to cover the costs of the plates, and until that money is covered by registered plate fees, Choose Life, Inc. cannot use money they bring in to support pro-life organizations.
The president of Choose Life, Merry Nordeen, said the organization is hoping to cover the gap by the end of June, so funds can begin to go back to the cause.
"When the plate first went on the road, we delivered actually 1,700 applications so we received a fairly good-sized sum of money from the Registry of Motor Vehicles. We immediately started going and doing good with it, sending thousand-dollar grants out to the pregnancy resource centers and asking them to just promote the plate in return," she said.
However, under current laws in the commonwealth, the RMV holds onto money to make sure that organizations offering such plates put 3,000 registered tags on the road before returning the down payment, giving organizations 24 months to cover the bond from the time that the first plates are first issued.
Nordeen said that the RMV informed her that the deadline is June 30. Plates on the road after the deadline will remain valid, but funds coming in as more people buy plates will not go to the pro-life cause until the RMV releases the bond.
Money coming in to the organization through the plate sales has already benefited local pro-life causes, such as: Compassion Pregnancy in Worcester, First Concern in Clinton, and Your Life Matters in Southbridge. So far the organization has donated $56,212 to local pro-life non-profit groups through the plate program.
That money went to opening new pregnancy resource centers, funding existing centers, and providing training for pro-life volunteers, but with $100,000 tied up further donating remains curtailed.
Page 1 of 2