From Cardinal Seán's blog
---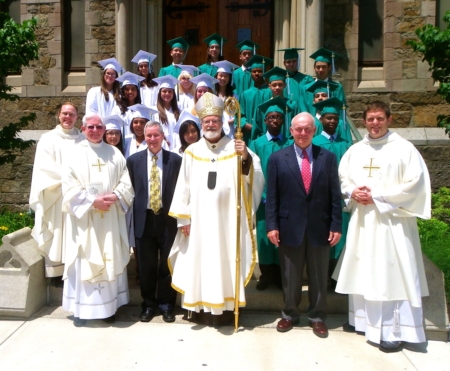 '...On Friday, June 8, I celebrated the baccalaureate Mass with the eighth-graders at St. Columbkille Partnership School in Brighton. The growth at St. Columbkille is also a great sign of hope for the future of Catholic education in the archdiocese.' Pilot photo/CardinalSeanBlog.org
Bishops' meeting and Fortnight for Freedom

Much of the rest of my week was spent attending the gathering of the U.S. Conference of Catholic Bishops, which was held in Atlanta. On Wednesday we gathered for Mass at the Sacred Heart of Jesus Basilica. It is a very beautiful and historic church.

In our meetings and discussions there was a great emphasis on the issue of religious freedom. Archbishop William Lori, who is chairman of the Ad Hoc Committee for Religious Liberty, gave a presentation and there were also talks by Catholic University President John Garvey and Professor Tom Farr, the director of the Religious Freedom Project at Georgetown University. President Garvey spoke about the legal situation in our country, and then it was thought helpful to look at the issue of religious freedom worldwide. Historically, the United States has taken a stand in favor of religious freedom in the world, but according to Professor Farr, recent administrations have not been aggressive in promoting it.