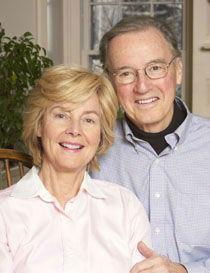 Looking for a cause?
---
Consider this thought experiment. You are a young parent with a house full of pre-school children. You and your spouse realize that you are not cut out to be homeschooling parents, but you want the best education for your children. You both sit down and think hard about the outcomes of the education you desire for your children. After serious thought you come up with a list similar to this:

We want our children's education to provide:

-- A firm grounding and solid understanding of your religious faith;

-- A comfort with and command of the core subjects (mathematics, language, history, science, and the arts);

-- Like your religious faith, a commitment of head and heart to the ideals of our country;

-- Good character based on having developed habits of honesty, self-control, generosity, persistence at a hard task, and justice.

Next, being by nature and by God's design, your children's first educator, you get to decide where to go have these educational goals fulfilled. The choices are:

A: Groups educators who have formed schools based on their educational philosophies and interests which you and your spouse share;

B: Similar groups of educators, but with a common religious orientation and educational goals;

C: Groups of educators organized and controlled by state bureaucrats, toothless local school boards, and teachers unions primarily dedicated to the well-being of teachers.