Boston priest continues pastoral care tradition at Pa. center
---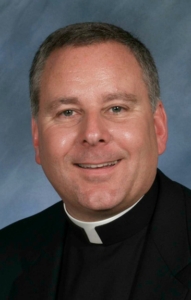 Father James Flavin Pilot file photo
DOWNINGTOWN, Pa. -- Before taking up the charge of providing spiritual and psychological care to clergy and religious at the Saint John Vianney Center in Pennsylvania, Father James Flavin was providing pastoral care to the people and neighborhoods of Brockton including police officers, firefighters, and struggling teens.

Former Police Chief of Brockton William Conlon -- where Father Flavin served as chaplain for the police and fire departments from 1992 until 2006 -- said the priest has a strong capacity for bringing people together in a community.

"He is just a regular guy. He doesn't come off as holier than thou. He realizes that people have their failings, but he also makes it perfectly clear that he is there to help, with God's healing grace," Conlon said.

Conlon said the priest developed a reputation for providing pastoral care in a nurturing way in the face of adverse circumstances.

"It wasn't like he was a chaplain in name only. He was constantly there talking with people, seeing how things were going, and ready to lend an ear to somebody that needed to talk. He made it perfectly clear that he was open to all faiths, not just Catholic," Conlon said.

As the director of clinical operations for St. John Vianney Center, Father Flavin coordinates care in a pastoral environment for those facing psychological trouble in their callings as priests or religious, and serves clergy from all denominations.