Boston priest continues pastoral care tradition at Pa. center
---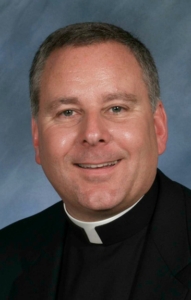 Father James Flavin Pilot file photo
DOWNINGTOWN, Pa. -- Before taking up the charge of providing spiritual and psychological care to clergy and religious at the Saint John Vianney Center in Pennsylvania, Father James Flavin was providing pastoral care to the people and neighborhoods of Brockton including police officers, firefighters, and struggling teens.
Former Police Chief of Brockton William Conlon -- where Father Flavin served as chaplain for the police and fire departments from 1992 until 2006 -- said the priest has a strong capacity for bringing people together in a community.
"He is just a regular guy. He doesn't come off as holier than thou. He realizes that people have their failings, but he also makes it perfectly clear that he is there to help, with God's healing grace," Conlon said.
Conlon said the priest developed a reputation for providing pastoral care in a nurturing way in the face of adverse circumstances.
"It wasn't like he was a chaplain in name only. He was constantly there talking with people, seeing how things were going, and ready to lend an ear to somebody that needed to talk. He made it perfectly clear that he was open to all faiths, not just Catholic," Conlon said.
As the director of clinical operations for St. John Vianney Center, Father Flavin coordinates care in a pastoral environment for those facing psychological trouble in their callings as priests or religious, and serves clergy from all denominations.
The 50-bed facility, in Downingtown, Pa. operated by Catholic Health Care Services of the Archdiocese of Philadelphia, serves clergy and religious men and women with behavioral disorders and psychiatric illnesses.
The center works with Episcopalians, Methodists, Presbyterians, Salvation Army, and other denominations, according to Father Flavin.
"You name a Christian denomination, they work with us also," he said.
His experience as a Boston priest created a strong base for his continued work supporting the Church. According to the SJVC website a 2002 Newsweek article called Father Flavin "Father Fix-it" of the Catholic Church for helping survivors of clergy sexual abuse.
After his ordination in 1987, Father Flavin spent five years in Dorchester before heading to Brockton, where he served in parishes there until 2006.
Father Flavin recalled having an attitude that he really could make a difference in the world, early in his priestly duties.
"I think that's the foolishness of youth across the board, the gift of youth but the foolishness of youth. That's the great hope of young people; they think they can change the world. It's wonderful," he said.
He earned a master's degree in counseling from Boston College in 1998, and obtained his psychotherapy license in Massachusetts in 2000.
In 2006, Father Flavin became Director of Pastoral Care of Priests for the Archdiocese of Boston. He said he soon realized that he could no longer continue as pastor at St. Edith Stein in Brockton.
"To do that kind of job well, you cannot be a full-time pastor at a big inner-city parish," Father Flavin said.
During his time as director, he oversaw the pastoral care of approximately 750 active and retired priests.
He said his experience of providing pastoral care for a large flock of priests prepared him well for his current work at the St. John Vianney Center.
"Working in that way with priests really struggling to do a good job and to be present, has really helped me, given me good insight into us priests and how we work," Father Flavin said.
Father Flavin was inducted into the American Academy of Experts in Traumatic Stress in 2006 to recognize his work with people traumatized by the events of Sept. 11, 2001 and those affected by the abuse crisis in the Catholic Church.
"Everybody needs to know that God loves them. Everybody can lose that focus for whatever reason, you know, depression, anxiety, losses in life, overwork, not caring for yourself. There are so many factors that can cause any one of us to go off the track very easily," he said.
He said one particular teaching keeps him motivated.
"The wonderful news is the Incarnation happened. God became flesh. Jesus became a human person like the rest of us. So, there is value to being human. God showed us that," he said.
Page 1 of 2