From Cardinal Seán's blog
---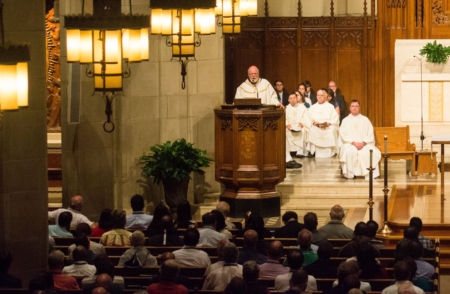 This week, the Jesuits held their International Colloquium on Jesuit Secondary Education in Boston from July 29 to August 2... I celebrated Mass for them on Tuesday (7/31), the Feast of St. Ignatius. Pilot photo/CardinalSeansBlog.org
I was asked to perform the ordination of Father Pablo Osorio, a Capuchin from Colombia who is stationed in Puerto Rico. Ordinations, of course, are always a very important moment in the life of the Church and I was proud to be asked to do it. The ordination was held in the Church of our Lady of Perpetual Help. The pastor there, Msgr. Carlos Cantata, worked with us in Washington at the Bishops Conference as the director of the Latin American Secretariat. He is now pastor in Puerto Rico at that parish. Being in Puerto Rico also afforded me the opportunity to celebrate a Mass for the renewal of vows of Juan and Kim Woodruff, whom I had married over 25 years ago. Kim's parents, Manny and Maura Cassiano, renewed their vows in the same Mass. The renewal of vows took place in the Church of San Francisco, which is one of the churches the Capuchins have in Old San Juan.
Jesuit Colloquium
This week, the Jesuits held their International Colloquium on Jesuit Secondary Educatiovn in Boston from July 29 to August 2.... We pray that this very important ministry of training young people in the life of discipleship and academic excellence will be blessed, and the ideals of St. Ignatius will inspire all of those involved in this ministry throughout the world.
I encouraged them to take advantage of the Year of Faith to stress the importance of the Sunday Eucharist for students, to help them to learn how to pray and how to be part of the worshiping community. I celebrated Mass for them on Tuesday (7/31), the Feast of St. Ignatius. The Mass was in French, Spanish and English representing the most commonly spoken languages in that group. As I pointed out at the Mass, their efforts affect not just the thousands of students they have, but all the millions of lives those students will touch. There is a ripple effect to a good Catholic education.
As I told them, I never went to Jesuit school myself, but my father was trained by the Jesuits. They instilled in him a love for the Church, his family, the social gospel of the Church and his Catholic faith, which he passed on to us. In that sense, all of us in my family were the beneficiaries of that Jesuit education.
Feast of the Portiuncula
Page 1 of 2