New rector begins work at St. John's
---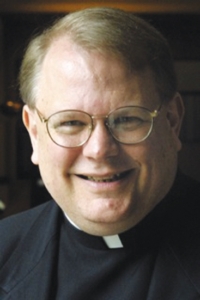 Msgr. James P. Moroney Pilot file photo
BRIGHTON -- Settling in as rector at St. John's Seminary Msgr. James P. Moroney sees hope and potential on the horizon as he lays in a course to move his new ministry forward.
With almost 30 new seminarians entering in the fall, Msgr. Moroney is about to get a larger influx of new recruits to forward the mission of the Church than any seen at the seminary in 20 years.
"As rector of the seminary I have tried, in the whole five weeks that I have been rector, to do whatever I could to foster the mission of this extraordinary institution," he joked.
While some seminarians come from as far off as Vietnam and Saudi Arabia, many come from dioceses surrounding the Archdiocese of Boston. More local seminarians will come from Massachusetts dioceses in Worcester, Springfield and Fall River, and from out-of-state dioceses in Burlington, Vermont; Portland, Maine; Providence, Rhode Island and Hartford, Connecticut.
Msgr. Moroney had a special message for the men coming to the seminary in the fall.
"You new men are the hope of the Church throughout the world. We await your enthusiasm, your goodwill, your openness to formation, and your love of God's will in your life," he said.
The rector of St. John's Seminary also had a message for the lay people in Boston, as they support the vocations of the men, and for those studying in lay ministry programs alongside the potential future priests.
"I spend a good deal of time speaking to people in all different walks of life in the Church about vocations. There is no role in vocations more important than the individual parishioner who sees a young man who they think God may be calling to the holy priesthood, and through their encouragement, and their prayers, and their witness, can help that man to answer God's call," he said.
"Just as a young bride and groom need to be encouraged by the whole Church to be faithful to the call that God has placed into their hearts, so the young seminarian needs the prayers, the support, and the witness of every one of the baptized in order that he may have the grace or the courage to answer God's call."
The new rector acknowledged the work of his predecessor Bishop Arthur L. Kennedy at the seminary.
"I am deeply grateful to Bishop Kennedy, who in many respects is a latter day founder, a second or third founder, of St. John's Seminary, in helping to reestablish the magnificent tradition of St. John's Seminary," Msgr. Moroney said.
Page 1 of 2