---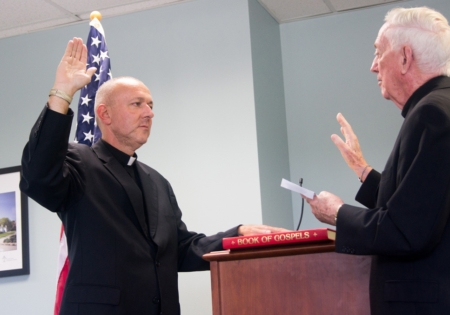 Father Thomas Foley takes the oath of office as an Air Force chaplain at the Pastoral Center Aug. 13. Pilot photo/Christopher S. Pineo
Local priests named crime fighters of the year
At the 29th Annual National Night Out in Boston, Father Jack Ahern and Father Richard C. "Doc" Conway, who serve at three Dorchester parishes, received Crime Fighter of The Year Awards for their work with Boston youth.
The citywide event, hosted locally by the offices of Mayor Thomas Menino and police commissioner Edward Davis, celebrated partnerships between the community, youth, law enforcement, city and state agencies, and community based organizations to promote crime free communities. The event also acknowledged the contributions that neighborhood watch groups make to Boston's neighborhood safety.
St. John's class of 1962 celebrates 50th anniversary, launches website
St. John's Seminary Class of 1962 recently celebrated its 50th anniversary with a reception and grand reunion banquet in the refectory at the seminary with a record attendance of 38 classmates.
"While this gala event had special significance, particularly since it was a return to our venue as seminarians, the class has taken pride in maintaining a close bond with each other over the years by having regular reunions hosted by individual classmates at their respective parishes in and around the Boston area," class secretary Donald Morency said.
The class also launched what could be the first class website in the history of St. John's Seminary. The site,
www.stjohnsem62.com
, was designed and developed as a nostalgic vehicle to recall memories of the past and to share current news, activities and thoughts as the class moves through the years.
"It has been well received and we look forward to the site serving as another means to keep in touch with each other," Morency said.
Father Foley sworn in as Air Force Chaplain
At the Pastoral Center in Braintree, Msgr. John McDonough administered the oath of office to Father Thomas S. Foley, swearing him in as a chaplain with the rank of captain in the United States Air Force on Aug. 13.
Father Foley will report to a base in Mobile, Alabama by Aug. 27 for a month of training before heading to his three-year assignment at Ellsworth Air Force Base in South Dakota.
At the swearing-in he said he anticipates a deployment to Afghanistan during his service to the Archdiocese for the Military Services.
Cardinal O'Malley to receive NCEA's highest honor
Cardinal Seán P. O'Malley will be among the recipients of the National Catholic Educational Association's St. Elizabeth Ann Seton Award for his efforts to renew and revitalize Catholic education in the Archdiocese of Boston. The award will be presented during the 22nd annual Seton Awards ceremony Oct. 1 at the Ronald Reagan International Trade Center in Washington, D.C.
The Seton Award is NCEA's highest honor, given in recognition of significant contributions to Catholic education. The award is named in honor of St. Elizabeth Ann Seton, the first native-born American saint.
Page 1 of 2