From Cardinal Seán's blog
---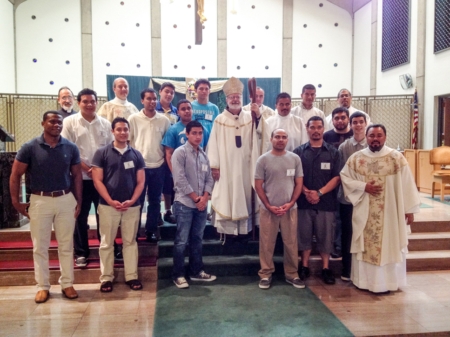 On Saturday (8/4), the Vocations Office sponsored a day of reflection for Hispanic candidates at St. Stephen's Church in Framingham. Pilot photo/CardinalSeansBlog.org
In the evening (8/1) I attended the St. John Vianney Gathering at St. John's Seminary. At 5 o'clock we had a conference for the priests given by Father Myles Sheehan on the subject of physician assisted suicide. Father Sheehan is the provincial of the New England Province of Jesuits and he is also a physician, a gerontologist. He gave an excellent presentation attended by about 50 priests. Over 100 priests came for the Vespers and the barbecue dinner, which we have every year around the Feast of St. John Vianney, the patron saint of priests.
Day of Reflection
On Saturday (8/4), the Vocations Office sponsored a day of reflection for Hispanic candidates at St. Stephen's Church in Framingham. I was happy to join them for Mass and lunch. Father Dan Hennessey, Father Gabino Macias and Father Paco Anzoategui organized the day's program and Father Felipe Gonzalez also gave a presentation.
Visit to Most Holy Redeemer Parish
Sunday (8/5), I went to Most Holy Redeemer Parish in East Boston for the blessing of the statue of Cristo Divino Salvador Del Mundo, which is the patron saint of El Salvador. I was very pleased to be joined by the pastor, Father Tom Domurat, Father Al Keenan, the Consul General of El Salvador Jose Edgardo Aleman Molina, and Vice Consul Ena Ursula Pena. There were so many people in attendance; they couldn't fit into the church. It was just a huge crowd! They celebrate this feast day on the Feast of the Transfiguration, which would have been Monday. So, in the parish they had the celebration the Sunday with the blessing of the statue. This is a feast day I used to celebrate at my parish in Washington, where we had a large number of parishioners from El Salvador. ...As our Salvadoran community has grown so much, particularly in East Boston, I am delighted that the parish is promoting this traditional devotion, which is a great source of spiritual strength.
Knights of Columbus Convention
Page 1 of 2