From Cardinal Seán's blog
---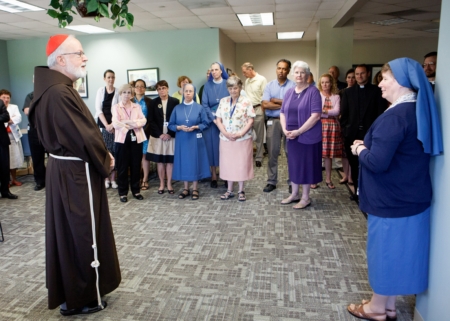 'Sister Josephine Fallon's presence at the Pastoral Center and her presence to the priests and people of the archdiocese is much appreciated. We had the opportunity to express that appreciation at a farewell gathering...' Pilot photo/CardinalSeansBlog.org
Sister Josephine Fallon's presence at the Pastoral Center and her presence to the priests and people of the archdiocese is much appreciated. We had the opportunity to express that appreciation at a farewell gathering Thursday (8/9) here at the Pastoral Center. She has been named Superior of the U.S. Delegation for the Sister Disciples of the Divine Master, which necessitates her moving to Staten Island, New York. She will be sorely missed, but we know she will be back visiting frequently. At the same time, we are very consoled that Sister Nieves, who worked in Boston for so many years, is returning as the local superior. So many of our people know her very well, and her presence here will be a blessing for the Church. The work done by the Sister Disciples with the priests at Regina Cleri, their presence at West Street and here at the Pastoral Center is a great blessing for all of us. We pray that the Lord will bless the community with many vocations.
Capuchin Profession in Pittsburgh
...I traveled to Pittsburgh for the solemn profession of five men from my Capuchin province. The men were taking perpetual vows, traditionally what we would call solemn vows. After the novitiate, Capuchins usually take temporary vows for three years. Then, after those three years of temporary vows, they usually take vows for a lifetime. We had the ceremony at the Church of St. Augustine, the place where I made my own profession and where I was ordained a priest. It is an old German parish that is a replica of a church in Bavaria. It was a beautiful celebration for us, especially being held on the Feast of St. Clare (8/11). It was a wonderful way to celebrate this important occasion.
Catholic Conversation Project
Page 1 of 2