Sisters provide 'dignity and respect' at end of life
---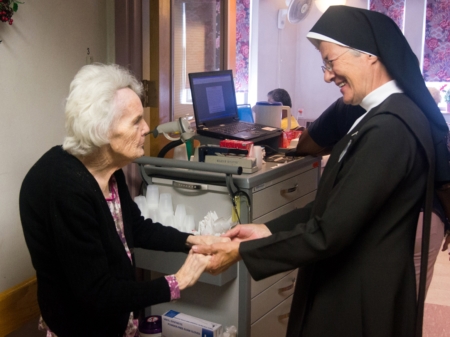 Carmelite Sister for the Aged and Infirm Sister Philip Ann Bowden greets a resident at the order's Marian Manor facility in South Boston. Pilot photo/Christopher S. Pineo
FRAMINGHAM/SOUTH BOSTON -- The Carmelite Sisters for the Aged and Infirm in Massachusetts continue the mission of care for the elderly, as the cause of their foundress, Mother Mary Angeline Teresa McCrory, hit a milestone in June.

As part of their mission the sisters oppose threats to the sanctity of human life, including the Massachusetts vote on Ballot Question 2 in November, an attempt to legalize physician assisted suicide that the sisters recognize publicly as a threat to that sanctity.

Superior General Mother Mark Louis Randall, O Carm., asked who better to pray to for intercession than the foundress whom Pope Benedict XVI declared venerable on June 28.

"Mother loved older people. She dedicated her whole life to the care of the elderly, and she wanted to treat them with dignity and respect, and I think sometimes that is lacking in this day and age," Mother Mark said.

Mother Mark said respect for the life of the elderly is diminished because some people "fear old age and they don't quite know what to do with aging and with older people. They don't see them as individuals, but mother did see them as individuals."

Venerable Mother Mary Angeline Teresa began her calling with the Little Sisters of The Poor in 1912. In 1926 the sisters appointed her superior at a home in the Bronx, but she found the mission to help only needy elderly limiting.