Sisters provide 'dignity and respect' at end of life
---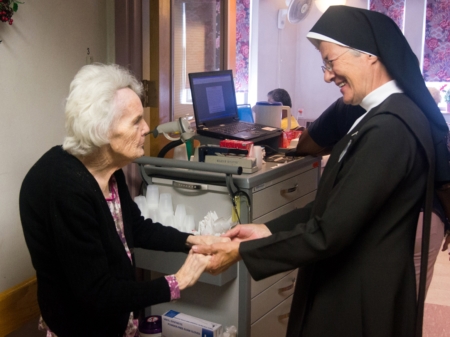 Carmelite Sister for the Aged and Infirm Sister Philip Ann Bowden greets a resident at the order's Marian Manor facility in South Boston. Pilot photo/Christopher S. Pineo
FRAMINGHAM/SOUTH BOSTON -- The Carmelite Sisters for the Aged and Infirm in Massachusetts continue the mission of care for the elderly, as the cause of their foundress, Mother Mary Angeline Teresa McCrory, hit a milestone in June.
As part of their mission the sisters oppose threats to the sanctity of human life, including the Massachusetts vote on Ballot Question 2 in November, an attempt to legalize physician assisted suicide that the sisters recognize publicly as a threat to that sanctity.
Superior General Mother Mark Louis Randall, O Carm., asked who better to pray to for intercession than the foundress whom Pope Benedict XVI declared venerable on June 28.
"Mother loved older people. She dedicated her whole life to the care of the elderly, and she wanted to treat them with dignity and respect, and I think sometimes that is lacking in this day and age," Mother Mark said.
Mother Mark said respect for the life of the elderly is diminished because some people "fear old age and they don't quite know what to do with aging and with older people. They don't see them as individuals, but mother did see them as individuals."
Venerable Mother Mary Angeline Teresa began her calling with the Little Sisters of The Poor in 1912. In 1926 the sisters appointed her superior at a home in the Bronx, but she found the mission to help only needy elderly limiting.
In a move to extend her ministry to all elderly without respect to means, Mother Mary Angeline Teresa started a new order in 1929. In 1931 the new community associated with the Order of Carmel.
The Carmelite Sisters for the Aged and Infirm supported their foundress as she extended care for old people of all classes -- not just the poor.
"She wanted to be Christ to them, treat the older person as though they were Christ and, on the flip side, have the older person feel like they have been visited by Christ or that Christ is tending to them," Mother Mark said.
Here in the Archdiocese of Boston the Carmelite Sisters for the Aged and Infirm operate St. Patrick's Manor in Framingham and Marian Manor in South Boston.
Sisters at St. Patrick Manor in Framingham said solidarity with the leadership of Mother Mark and the mother house in Germantown, New York, and with the entire community of 19 facilities -- 18 in the United States, and one in Ireland -- bolsters their resolve in fighting to protect the sanctity of life.
"Their leadership provides an excellent concern for the sisters physically, mentally and spiritually. They are always there in the good times and the difficult times," said Sister Shawn Bernadette Flynn, O Carm., prioress at St. Patrick's.
At St. Patrick's Manor a community of 30 sisters -- six of whom are retired and receiving care at the facility -- and 4 postulants provide residents and guests with short-term rehabilitation programs, long-term skilled nursing care, and a respite program that provides a temporary living space for elderly who live with family or other care-givers.
Sister Shawn and administrator Sister Maureen McDonough gave The Pilot a tour of the building, which is connected to the sisters' Carmel Terrace assisted-living facility.
Sister Maureen said the breezeway that allows access between the two buildings helps support elderly people as their marriages continue throughout their old age.
"Some of them have been married 70 years, 60 years and they have lived with each other all those years. They do not want to leave their spouse, but they know they cannot care for them on the outside," Sister Maureen said.
St. Patrick's also provides care for 27 women religious of other orders, as well as the six retired Carmelite sisters who call the facility home.
"We call this 'the nunnery,'" Sister Maureen said upon entering one floor of the nursing-home area of St. Patrick's.
Sister Maureen included a stop in a courtyard of St. Patrick's to visit the resident tortoise Rambo, who demonstrated his eagerness to provide pet therapy by walking toward the borders of his enclosure as the administrator approached so she could pick him up.
"The residents like him. They come out to visit him all the time and feed him," she said.
Throughout the tour, the sisters emphasized their role of supporting the active lives of residents at the manor.
"They do not come here to die; they come here to live," Sister Maureen said.
Sister Shawn said physician assisted suicide laws could disrupt lives otherwise on course to continue with dignity at places like St. Patrick's, but also could permanently disrupt peace in families that help a person end their own life.
"There is never peace in that family again. If you do that to grandma, can you turn around and do it to me in a couple of months? What about if I woke up and had a terminal illness tomorrow?" she said.
Sister Philip Ann Bowden, the administrator at Marian Manor in South Boston, also opened the facilities under her leadership for a similar tour.
Page 1 of 2