Choose Life license plates receive extension
---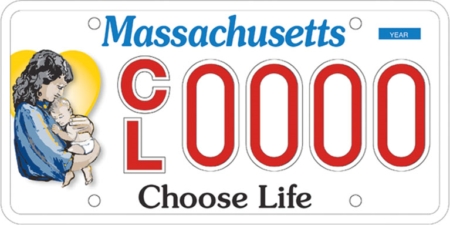 Now is a critical time for people to order the Choose Life license plates, according to Merry Nordeen, who spearheaded the effort to bring these specialty plates to the Commonwealth.

As of Aug. 8, there were 2,908 Choose Life plates on the road, just 92 shy of the 3,000 mark that was supposed to be reached by June 30.

While the June deadline has passed, the Massachusetts Registry of Motor Vehicles has informed Nordeen that the $100,000 bond put up by a private donor will be returned in its entirety if the goal of 3,000 plates is met. Until then, the bond is on hold and so is the money raised by the plates.

The foundation for the Choose Life license plates has distributed some of the more than $100,000 the plates have raised. Now, the board is waiting to see that the $100,000 bond is released before spending the nearly $100,000 they have accumulated in case that money is required to replace the bond.

"We're doing it one plate at a time. Every plate counts. If anyone is considering getting the plate, now would be the time to help us reach our goal," Nordeen said. "It's very exciting to be this close, and we're just looking forward to being able to start giving our grants out again once we know that we've reached the goal."