From Cardinal Seán's blog
---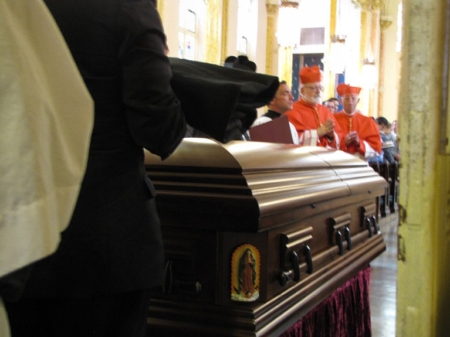 'Nellie Gray's funeral took place Friday (8/24) at 11 o'clock at Mary Mother of God Church in Washington, D.C. ...I was very touched to see that on her coffin she had an image of our Lady of Guadalupe which, of course, represents Mary during her own pregnancy.' Photo courtesy/LifeSiteNews.com
Nellie Gray's funeral took place Friday (8/24) at 11 o'clock at Mary Mother of God Church in Washington, D.C., where she had been a parishioner for many years. She often went to the Tridentine Mass on Sundays, so it was decided that her funeral Mass should be celebrated in the Extraordinary Form. The Mass was celebrated by her pastor, Father Jay Harris, a very fine priest who is a graduate of Blessed John XXIII Seminary in Weston and has been pastor at St. Mary's Church, a beautiful old church in the center of the city's Chinatown, for many years. Many of Nellie's friends and members of her family, who came from Texas, were there to bid farewell to her. Cardinal Wuerl and I presided in Choir, and spoke at the end of the Mass.
There was an extraordinary choir. It was exceptional and how beautiful the music was. Terry Scanlon, one of the board members of the March for Life, offered words of remembrance at the conclusion of the Mass. He spoke about how, back at the beginnings of the March, Nellie and "Father Seán O'Malley" with his sandals, would trot through the Rayburn House Office Building leafleting all the offices. He also reminded me of all the lunches of peanut butter and jelly sandwiches that Nellie and I would share in those days! I was very touched to see that on her coffin she had an image of our Lady of Guadalupe which, of course, represents Mary during her own pregnancy. I thought it was a beautiful detail.
In my remarks, I spoke about how Nellie really said "yes" to a very special vocation in the Church as a Catholic lay woman. She gave up a very comfortable position as a lawyer in the Labor Department and renounced the possibility of having her own family or following her professional career. She gave all of that up to be able to dedicate herself to the defense of life. As I said, for Nellie life was not an abstract issue, it was about the defense of pre-born babies. That was the phrase that she coined and used constantly. Her vocation was to save those children. In the early days of the March, many people thought that we should have held it in the springtime, or some other time when the weather was better. However, I think she was very wise to attach it to the very date of the Roe vs. Wade decision, which is one of the saddest days in the history of our country. Hundreds of thousands of people being there in the snow and ice only made the witness more convincing that people are determined to stop legalized abortion in the United States.
Page 1 of 2