Rep. Chris Smith to speak at Red Mass luncheon
---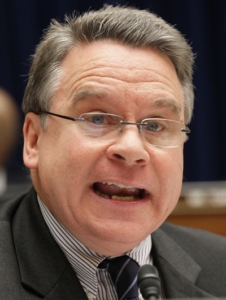 Rep. Chris Smith, R-N.J. CNS photo/Bob Roller
BOSTON -- Continuing a treasured tradition that dates back to the 13th century, The Catholic Lawyers' Guild of Boston will come together to host its annual Red Mass and luncheon on Sept. 30.
Named for the majestic red vestments worn by the celebrants, the Red Mass is traditionally attended by judges, lawyers and court officials of all faiths asking God to bless, strengthen and enlighten all servants of the law and all people of faith so that justice may be achieved in the spirit of cooperation and mutual trust.
Honoring the official start of the judicial year, the Red Mass will be celebrated at the Cathedral of the Holy Cross at 11:30 a.m. Cardinal Seán P. O'Malley, will be the principal celebrant and homilist.
The Red Mass luncheon will follow at 1 p.m. at the Seaport Hotel on the South Boston waterfront.
The scheduled keynote speaker at the luncheon is Congressman Chris Smith of New Jersey, who serves as co-chairman of the Congressional Bipartisan Pro-Life Caucus, authored the $265 million Stem Cell Therapeutic and Research Act, and includes among his many achievements the Trafficking Victims Protection Act, which protects women and children from being trafficked into the sex trade and labor market. Congressman Smith's commitment to protecting unborn children and their mothers is a vital component of his human rights agenda.
The origins of the Red Mass date back to 1245 at the Chapel of Sainte Chapelle in Paris. Sixty years later, the Red Mass was celebrated in England during the reign of Edward I. In honor of the Holy Spirit, majestic red vestments were worn by all participants. The veritable sea of red that resulted became known as the Red Mass.
The Red Mass has been celebrated internationally from Rome to Paris, Canada, Ireland, Scotland and the Philippines. One of the largest Red Masses is held annually in Washington, D.C. on the Sunday before the Supreme Court convenes on the first Monday in October.
The Red Mass was first celebrated in 1941 at Immaculate Conception Church in Boston, under the auspices of Cardinal O'Connell and Boston College Law School.
Established in 1987, The Catholic Lawyers' Guild of Boston fosters a sense of wisdom, community and guidance to Catholic lawyers as they apply their faith to the ever-changing challenges of professional versus personal life. The Guild is dedicated both to furthering the highest ethical standards in the practice of law and championing service in society.
Page 1 of 2