---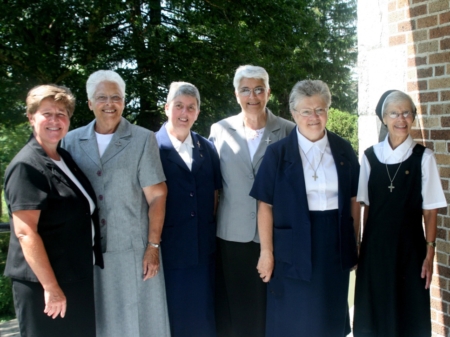 The leadership team of the Sisters of the Presentation of Mary, Sister Maria Rosa, Sister Claire Guerin, Sister Jacqueline Lambert, Sister Helene Cote, Provincial Superior, Sister Marie Henault, and Sister Janice Perrault. Courtesy photo
Chambers named director of Catholic Charities South
Catholic Charities of the Archdiocese of Boston in August named Beth Chambers Director of Catholic Charities South in Brockton.
Chambers has been affiliated with Catholic Charities serving in various capacities since 1990.
After volunteering at the "Our Daily Bread" lunchtime program, Chambers was later hired to supervise the program. Chambers also led the Intensive Family Intervention program for Haitian Families at Catholic Charities and served as the Director of Community Services for food pantries in Somerville, Dorchester, El Centro, Natick and Brockton. Chambers was part of the Catholic Charities' team that worked with families who lost loved ones in the terrorist attacks on Sept. 11, 2001 and she continues to work with the Massachusetts 9/11 Fund. Chambers has been the administrator of Sunset Point Camp in Hull for 17 years and will continue that role in her new position.
Archbishop Williams HS names new president
The Archbishop Williams High School Board of Trustees recently appointed Dennis M. Duggan, Jr. as president of their Catholic co-educational college preparatory high school in Braintree.
Duggan succeeds Carmen Mariano who has moved from president to principal succeeding Mary Lou Sadowski who retired June 30.
Duggan, 60, was a student athlete and National Honor Society member before graduating in 1970. He matriculated to Boston College and graduated magna cum laude in 1974, and earned his doctorate from Suffolk University Law School.
St. Catherine of Siena School, Norwood launches iPad initiative
Beginning this September, every student in grades 6 through 8 at St. Catherine of Siena School in Norwood will have an iPad 2. Officials at the school said this makes St. Catherine of Siena School the first Catholic middle school in the Archdiocese of Boston to use one-to-one iPads for instruction.
The school said students will use the iPads for class work and homework as well as to communicate, collaborate, read assignments, take notes, organize their schedules, and do research.
Students said they look forward to the new school year and using their new tools.
"I know the power of technology and I'm looking forward to the new learning experience at St. Catherine's," seventh-grader Oliver Wales said.
Regis College to offer a graduate program in Applied Behavior Analysis
This fall, Regis College becomes one of just three institutions in Massachusetts to offer a Master's of Science in Applied Behavior Analysis (ABA) program.
People on the spectrum of autism disorders have difficulty initiating social interactions or indicating their wants and needs. Regis officials said the program works to identify why certain inappropriate behavior occurs, develop individualized treatments, and change the autistic person's environment to promote new skills and decrease problem behavior. The first course will be offered in January 2013.
Faculty member, Cynthia Phelan, and dean of Institutional Research and Assessment, Susan Tammaro, designed the new program. The school named Lauren Beaulieu, a board certified behavior analyst, the program director.
Sisters of the Presentation of Mary unify U.S. provinces
The Sisters of the Presentation of Mary celebrated the formal rite of unification of its two American Provinces as well as the installation of the new leadership team last month.
The Manchester and Methuen Provinces will now be known as the United States Province, with administrative offices located at 209 Lawrence Street in Methuen.
Founded by Blessed Anne-Marie Rivier in Thueyts, France in 1796, the Congregation includes some 1,200 sisters, 2,100 lay associates, several lay consecrated persons serving in 20 different countries. They first came to the United States in the late 1800s, in response to the spiritual and educational needs of the many families immigrating to New England from Canada.
Page 1 of 2