From Cardinal Seán's blog
---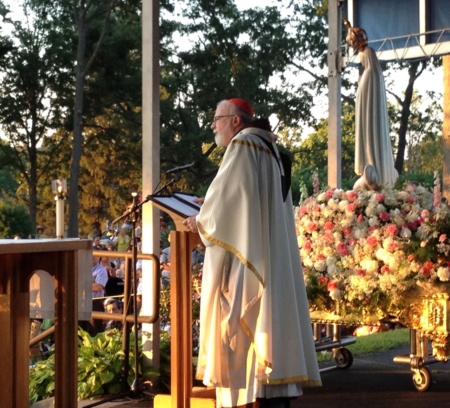 'Sunday (9/2), I went to Ludlow in Western Massachusetts to take part in the celebrations there of Our Lady of Fatima. There was a very large outdoor Mass, attended by an estimated 30,000 people.' Pilot photo/CardinalSeansBlog.org
At the beginning of the academic year, it is customary that I celebrate a Mass of the Holy Spirit at each of the seminaries in the archdiocese. The first this year was on Friday (8/31) at Blessed John XXIII National Seminary, which is sponsored by the Archdiocese of Boston and forms men from all over the country for second-career vocations. The rector, Father Bill Palardy, was very proud to show us his newly renovated Chapel, which came out very beautifully, as well as the new entrance. They also did renovations within the building, installing such things as a new sprinkler system. It was a very extensive renovation that was underway all summer.
They have a very good enrollment this year. There are a couple new dioceses that are sending candidates to the seminary and their enrollment is about 66 candidates. I look forward to hosting the seminary's annual Lawn Party on Sept. 19 which, in addition to being an opportunity to support Blessed John XXIII National Seminary, will also give many people their first chance to see all the wonderful restoration work that has been done there.
Later that day, we also had a Mass of the Holy Spirit to begin the academic year at the Jesuits' Blessed Peter Faber Residence, the home of many students and teachers from the Boston College School of Theology and Ministry. I was very pleased to meet the new superior Father Jim Gartland. He is originally from Cleveland and went to the same high school as my brother, St. Ignatius High.
Our Lady of Fatima celebrations
Sunday (9/2), I went to Ludlow in Western Massachusetts to take part in the celebrations there of Our Lady of Fatima. There was a very large outdoor Mass, attended by an estimated 30,000 people. There was also a long candlelight procession with the praying of the rosary. Throughout the procession, the people sang traditional typical Portuguese hymns, "13 de Mayo," "Salve Rainha," and of course ending with the beautiful "Despedida." There were many priests and seminarians from the Archdiocese of Boston in attendance. Msgr. Chris Connelly, the rector of the Cathedral of the Diocese of Springfield, was there representing Bishop Timothy McDonald.
Foundation Day with Carmelite Sisters
Page 1 of 2