BC opens 150th celebrations with Fenway Mass
---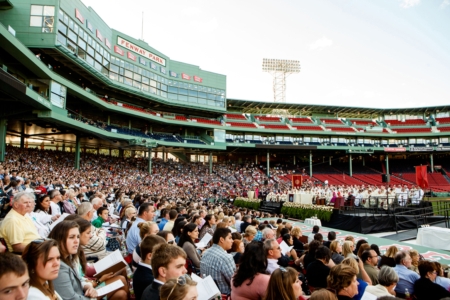 More than 20,000 attend a Mass at Fenway Park to mark the 150th anniversary of Boston College and Boston College High School Sept. 15, 2012. Pilot photo/Gregory L. Tracy
FENWAY PARK -- An estimated 20,000 people filled the seats between home plate and Pesky's Pole at Fenway Park Sept. 15 to participate in the Mass of the Holy Spirit celebrated to commemorate 150 years of Catholic education at Boston College and Boston College High School.

Students, faculty, staff, alumni, and their families from both institutions joined in the Mass to kick off three semesters of Sesquicentennial Celebration, with the liturgy traditionally celebrated by Catholic academic institutions at the start of every school year.

"It is a grand manifestation I think of the spirit of loyalty and commitment of Boston College and Boston College High School alumni. You look around and see all the people who are here, priests, lay men and women. I think there is a common bond that we all share, a faith tradition and a commitment to community that manifests itself in all of the people who are present," Boston College president Father William P. Leahy, SJ, said.

Staff, trustees and faculty of both institutions processed into the stadium behind a liturgical cross dating back to the founding of Boston College in 1863, a symbol of the heritage shared by the university and the high school.