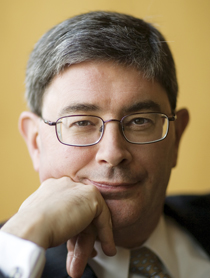 Campaign 2012 -- Religious freedom vs. Aggressive secularism
---
Some years ago, the Canadian philosopher Charles Taylor coined the term "exclusivist secularism" to describe a disturbing phenomenon in western societies: the determination of some intellectuals, activists, and politicians to scour public life of transcendent religious and moral reference points in the name of "tolerance" and "inclusion." Taylor's "exclusivist secularism" is not the benign "secularity" -- the separation of religious and political institutions in a modern society -- that Pope Benedict XVI has praised for helping Catholicism develop its understanding of the right relationship between Church and state. No, by referring to "exclusivist secularism," Charles Taylor was raising a warning flag about an aggressive and hegemonic cast of mind that seeks to drive out of the public square any consideration of what God or the moral law might require of a just society.

Aggressive secularism was once thought to be a primarily European malady. Then it migrated to Canada. Now it has become a serious problem in American public life. Catholics can do something about that, if they understand what the Church asks of "the world."

The Catholic Church asks -- and, if circumstances require, the Church demands -- two things of any political community and any society.