Physician speaks on Oregon experience of assisted suicide
---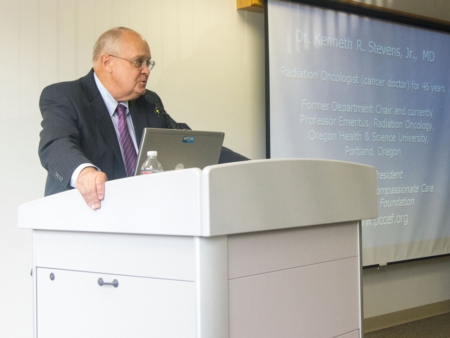 Dr. Kenneth Stevens of Oregon, vice president of Physicians for Compassionate Care Education Foundation, speaks at the archdiocese's Pastoral Center Sept. 7. Pilot photo/Christopher S. Pineo
BRAINTREE -- Twelve years ago, a patient visited Dr. Kenneth Stevens after being diagnosed with a form of cancer that would kill her in six months without treatment, seeking drugs to end her life. Over a course of the next few weeks Dr. Stevens spoke to her about other options.

"If my doctor had believed in assisted suicide, I would be dead. I thank him and all my doctors for helping me to choose 'life with dignity.' Assisted suicide should not be legal. I hope Massachusetts does not make this terrible mistake," she wrote in a 2011 letter to the Boston Globe.

At his presentation "The Reality of Physician Assisted Suicide in Oregon and what it means to Massachusetts" at the Pastoral Center Sept. 7, Dr. Stevens, vice president of Physicians for Compassionate Care Education Foundation (PCCEF), told this story to emphasize his point that the law proposed under a November ballot question in Massachusetts damages relationships between doctors and patients, detracts from the advance of medical science, and advances under a plethora of poorly defined terms coupled with misleading messages.

As an oncologist with 46 years of experience, who practices and teaches at Oregon Health and Science University in Oregon, Dr. Stevens built his case from the point of view of a board certified physician licensed in radiology who has treated many patients throughout the years facing grim diagnoses.