Blessed John XXIII Seminary celebrates 31st annual Lawn Party
---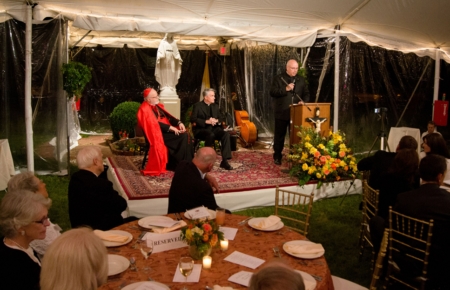 Seminarian Lawrence Love addresses guests at the Blessed John XXIII National Seminary annual Lawn Party as Cardinal Seán P. O'Malley and rector Father William B. Palardy look on. Pilot photo/Christopher S. Pineo
WESTON -- More than 400 supporters of Blessed John XXIII National Seminary joined Cardinal Seán P. O'Malley and rector Father William B. Palardy Sept. 19 for the seminary's 31st Annual Lawn Party.
"We are very proud of this extraordinary institution. In my own ministry as a bishop having served in four different dioceses -- very different dioceses -- West Indies, Fall River, Palm Beach and now Boston, the one thing that was in common in all of those dioceses has been the outstanding graduate priests from (Blessed John) who I have been lucky enough to serve with," the cardinal said in his remarks.
The cardinal expressed gratitude to Cardinal Richard J. Cushing for founding the seminary in recognition of the idea that a vocation can come at any time in life. The seminary trains men who begin their studies for the priesthood after the age of 30.
Cardinal O'Malley also expressed appreciation for the renovations made at the seminary. The seminary began facility improvements when they renovated the seminary chapel and front entrance during the 2012 summer break.
Father Palardy welcomed guests and introduced the two seminarians who continued the annual tradition of sharing their vocation stories with guests at the dinner.
Lawrence L. Love, a member of the class of 2014 for the Diocese of Tyler, Texas, said he is a father of two children who served in the Air Force as a flight surgeon and later went into private practice.
He went on to become a grandfather of nine and made a home in Paris, Texas, serving the Church as a Knight of Columbus and a Knight of the Equestrian Order of the Holy Sepulchre in Jerusalem.
Love said he was already considering a vocation as a permanent deacon when he lost his wife to Alzheimer's disease in 2007.
"After all this, I sensed that God was still calling me to a vocation in the Church," he said.
"My prayer became, 'Lord, if you really want me to become a priest for you, please make it plain to me.' He did, and here I am," Love said.
He said his family has supported his choice, even though it led him far from home to Boston.
"Dad, black is so slimming on you," he said his daughter told him the first time she saw him in his clerical attire.
Thomas J. Woodhouse of the Class of 2013 also served his country as an officer in the Marine Corps and later as a test pilot for the defense contractor Raytheon.
Despite having his dream job as a test pilot, he said he still felt the call to the priesthood even through the excitement.
Page 1 of 2