Msgr. Moroney installed as 20th rector of St. John's Seminary
---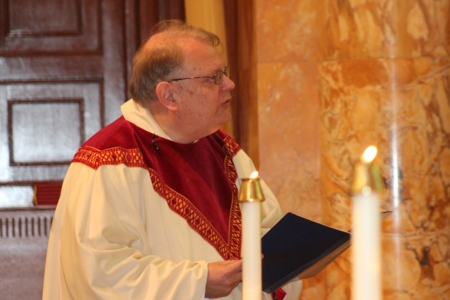 Msgr. James P. Moroney delivers his homily during his Sept. 23 Mass of installation. Catholic Free Press photo/ Tanya Connor
BRIGHTON -- Msgr. James P. Moroney was installed as 20th rector of St. John's Seminary Sept. 23.
At the Mass in the seminary chapel, the rector and faculty members made the profession of faith and took the Oath of Fidelity to the Church required of them by Canon Law.
Also as part of the ceremony, Worcester Bishop Robert J. McManus presented Msgr. Moroney, a priest of the Diocese of Worcester, with the June 28 decree signed by Vatican Secretary of State Cardinal Tarcisio Bertone that declared him a Prelate of Honor, the second level of monsignor.
Cardinal Seán P. O'Malley expressed gratitude to Bishop McManus and the Worcester Diocese for sharing Msgr. Moroney with the seminary.
The cardinal said the rector enjoys a world-wide prestigious reputation as consultor to the Vatican Congregation for Divine Worship and the Discipline of the Sacraments, and executive secretary of its Vox Clara committee of bishops from the English-speaking world. However, the cardinal said, what really impresses him about Msgr. Moroney is his joy and his deep love of the priesthood.
Cardinal O'Malley said he was delighted to have bishops and seminarians' families present, which was the seminary's annual family day. He thanked the seminarians' families and said many men can respond generously to the call because of their support.
In his homily, Msgr. Moroney focused on the figure of the shepherd.
He said he and his faculty are called to help men discern God's call and form them as shepherds.
"Some of you began God's holy work of forming priests...in other holy houses...where mothers and fathers taught sons how to make the sign of the cross...how to love as Jesus first loved them," he said.
"Some of you are their pastors and priests. You so moved them by the dedication of your lives that these men wanted to be just like you. You inspired them to become other Christs... Some of you are their bishops who have confided them to the care of this venerable seminary," he said.
"Here, men learn...to live as holy priests. They learn to preach, to administer the sacraments, and to set the world on fire with divine faith...to draw all people to Christ."
Msgr. Moroney quoted Bishop John Wright, first bishop of Worcester, previously auxiliary bishop of Boston: The priest is the sort of man in whom Christ is "present...as he is present in no saint...and in no angel...a priest (whose) supreme privilege, as well as his terrifying responsibility, is to be, in a sense, Christ himself."
Page 1 of 2