Obituary: Father Richard J. Butler dies at age 76
---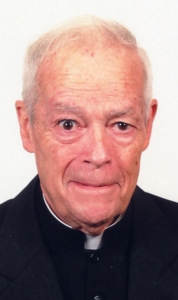 Father Richard J. Butler Pilot file photo
Father Richard J. Butler died Sept. 30 at the archdiocese's Regina Cleri residence for retired priests. He was 76 years old.
Born May 8, 1936, Father Butler was one of five children of Matthew P. and Katherine E. (Morrison) Butler of West Roxbury.
Raised in West Roxbury, he graduated from Boston Latin School. He went on to attend Holy Cross College and Cardinal O'Connell Seminary prior to entering St. John's Seminary where he received his A.B. and M.Div. degrees. He later earned a M.A. degree from Catholic University and a D.Min. degree from Boston University.
He was ordained -- along with his twin brother, Father Robert J. Butler -- on Feb. 2, 1962 by Cardinal Richard Cushing, and offered his first Mass on Feb. 5, at Our Lady of Mercy Church in Belmont where his family had moved while he was in the seminary.
His first assignment after ordination was to St. Mary Parish in Foxborough (1962-1966). He later served at Blessed Sacrament, Cambridge (1966-1970) and at Our Lady of Sorrows, Sharon (1970-1975).
From 1975 to 1978, he served as director of the Center for Pastoral Liturgy at Catholic University in Washington, D.C.
Returning to the archdiocese in 1978, he served as chaplain at Archbishop Williams High School in Braintree. He also served in-residence at Sts. Peter and Paul Parish in South Boston and was parochial vicar at Holy Family Parish in Rockland (1981-85).
In his 50 years of priestly ministry, Father Butler served as pastor or administrator of five parishes: Immaculate Conception, North Cambridge (1985-1989); Sacred Heart, Lexington (1989-1994); St. Lawrence, Brookline (1994-1996); St. Timothy, Norwood (1996-1999); and St. Isidore, Stow (1999-2006).
During his retirement, he also briefly served as administrator of St. Mary of the Assumption in Brookline and at Incarnation Parish, Melrose.
A liturgical scholar, Father Butler was executive secretary of the Boston Liturgical Commission (1970-75); a columnist for The Pilot (1972-96); interim director of the Office for Worship (1989) chairman of the Liturgical Commission (1989-92); a founding member of the North American Academy of Liturgy; and a member of Societas Liturgica.
Over the years, he occasionally taught at Stonehill College, Emmanuel College and Merrimack College as an adjunct faculty member.
In 1994, he was appointed as Director of the Office of the Permanent Diaconate, a position he held until 1996.
He participated in ecumenical activity in each of the parishes where he served, most recently with the Brookline Clergy Association, and participated in the Catholic-Jewish Dialogue at Stonehill College and the Center for the study of Jewish-Christian-Muslim Relations at Merrimack College.
In 1989, when he became pastor of Sacred Heart Parish in Lexington, the parish had a partnership with the parish school in Fonds des Blanc, Haiti. In the years following, he led more than 30 trips to Haiti, introducing many to the plight of poverty there and delivering medical and educational supplies. From 2002 to 2008 he served on the board of directors of the Hospice St. Joseph, a community center and medical clinic in Port au Prince, Haiti.
Page 1 of 2