From Cardinal Seán's blog
---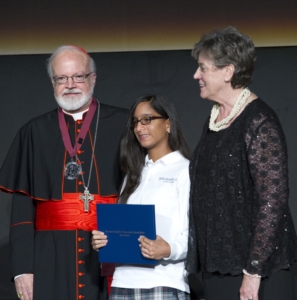 'The scholarship in my name was awarded to Emely Nunez, who is in the eighth grade at Pope John Paul II Catholic Academy. Congratulations Emely!' Pilot photo/CardinalSeansBlog.org
On Friday (9/28), I went to Our Lady Comforter of the Afflicted Parish in Waltham for the dedication of a new Marian garden they installed in front of the church. We had a rosary and a blessing in the garden. The schoolchildren were there, as well as many parishioners. We were so happy to hear Father Jim DiPerri's reports that the enrollment, Mass attendance, contributions to the parish and parish activities have all grown considerably in recent times. This is a great sign of encouragement. We are very grateful for the leadership of Father DiPerri and the effort parish leaders have exerted in that faith community to cause such wonderful growth.
St. Bernadette anniversary
The following day, Saturday (9/29), I went to St. Bernadette Parish in Randolph to be with them as they celebrated their 75th anniversary. The parish is a great example of the diversity in the archdiocese. There are large Vietnamese and Haitian communities in that parish, along with immigrants from many parts of the world. It was a beautiful celebration.
NCEA awards
Monday (10/1), I was very pleased to be honored by the National Catholic Education Association at their annual Seton Awards Dinner in Washington D.C. ...I was very grateful to be honored by this fine organization which does so much to promote Catholic education throughout the country. However, for me, the most gratifying part of the evening was awarding the $1,000 scholarship that the NCEA gives in name of each recipient. The scholarship in my name was awarded to Emely Nunez, who is in the eighth grade at Pope John Paul II Catholic Academy. Congratulations Emely! I am so happy I could play a part in supporting your Catholic education.
Visit to the National Shrine
Page 1 of 2