Cardinal opens Year of Faith in archdiocese
---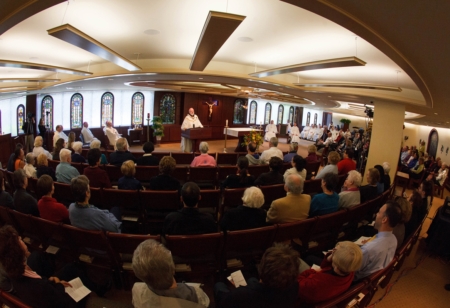 Cardinal Seán P. O'Malley delivers his homily during the Oct. 11 to open the Year of Faith in the Archdiocese of Boston. Pilot photo/ Gregory L. Tracy
BRAINTREE -- Cardinal Seán P. O'Malley celebrated a special Mass Oct. 11 to open the Year of Faith at Bethany Chapel in the Archdiocese of Boston's Pastoral Center.
Declared by Pope Benedict XVI in his October 2011 apostolic letter "Porta Fidei," the Year of Faith is an initiative to reinvigorate Catholic faith through continued conversion in celebration through November 2013.
The date chosen to open the year has special significance in the Church.
"Today, we are united with Pope Benedict XVI, and with all of our brothers and sisters from all over the world as we come together to open this Year of Faith and to mark the 50 years since the Second Vatican Council," the cardinal said in his homily.
The day also marked the 20th anniversary of the publication of the Catechism of the Catholic Church.
"Today is also the feast of Blessed John XXIII. Usually a blessed or saint's feast day is on the anniversary of his death, but when Blessed John was beatified they decided to use this date, the opening of the Council as his feast day and it is such a wonderful tribute to him," the cardinal said. "It's amazing when you think that two of the popes who were involved in the council have been beatified: Blessed John XXIII and Blessed John Paul II."
"Those of us who were alive at the time -- and I was in the seminary -- have such affection for Blessed John XXIII. He was such an extraordinary human being coming from a peasant family in northern Italy, having been a soldier in World War I," the cardinal said.
Opening the Year of Faith with a Mass in St. Peter's Square earlier in the day, the pope called Catholics to become active participants in the new evangelization, an effort to reinvigorate the Gospel message in historically Christian countries.
"The Year of Faith which we launch today is linked harmoniously with the Church's whole path over the last 50 years: from the council, through the magisterium of the Servant of God Paul VI, who proclaimed a Year of Faith in 1967, up to the Great Jubilee of the year 2000, with which Blessed John Paul II re-proposed to all humanity Jesus Christ as the one Savior, yesterday, today and forever," the Holy Father said.
The U.S. Conference of Catholic Bishops describes the Year of Faith as an opportunity for every Catholic to deepen their relationship with the person of Jesus Christ and to encounter him through the sacraments and the Eucharist.
Catholics are also encouraged to deepen their knowledge of the Catholic faith, through study and reflection on the documents of Vatican II and the Catechism.
Page 1 of 2