Brazilian community gathers for weekend-long faith celebration
---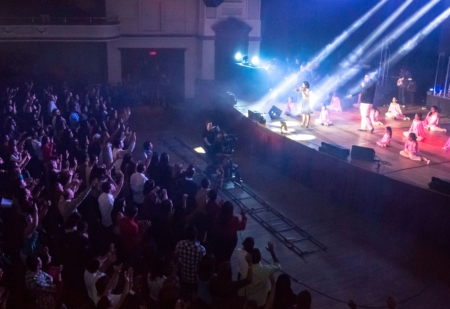 Henelris Marotti, organizer of the sixth annual Aclamai celebration, addresses the crowd from the stage of the Lowell Memorial Auditorium Oct. 20. Pilot photo/Christopher S. Pineo
LOWELL ? Brazilians from communities all over the country gathered at the Lowell Memorial Auditorium for the sixth annual celebration of Aclamai Oct. 20 and 21. The weekend-long Catholic gathering, themed "Celebrai" ("Let's Celebrate" in Portuguese) brought together priests, music artists, catechists and laity for Masses, prayer, teachings and song.

"In 2006 we had inspiration to gather all these communities together to celebrate faith and to preach about God," Henelris F.S. Marotti, who coordinated the event with her husband Fabio Marotti, said.

This year's Aclamai celebrated the tenth anniversary of Missao Louvor e Gloria ("Mission of Praise and Glory") a Brazilian outreach ministry promoting Catholic life.

"'Celebrai' means that the mission is here in Boston for ten years. We are celebrating the tenth anniversary of the mission. We use music to celebrate that," Marotti said.

Performers at the event included Adriana Arydes, Rodrigo Ferreira, Eugenio Jorge, Ziza Fernandes, Daniel Stavarengo, the Daughters of St. Paul, and Father Fabio De Melo ? a Catholic priest who released top-selling albums in 2008 and in 2009 in his native Brazil.

"The faith in Brazil is the life. Faith is just something very joyful," Marotti said.

"We are so happy that we have life in Jesus that we just sing, and preach, and we are just so alive. That is what Father Fabio (De Melo) does. He shows people how good it is to be God's children," she said.