From Cardinal Seán's blog
---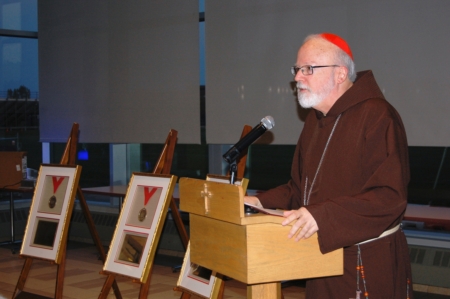 'Sunday evening was the annual St. James Society Cardinal Cushing Awards Dinner. This year, they honored three people with long-standing relationships to the St. James society: Father Peter Quinn, Dr. Martin Dunn and Sister Carlotta Gilarde.' Pilot photo/CardinalSeansBlog.org
...I attended the Massachusetts Family Institute's Fundraising Banquet (10/12). The organization, headed up by Kris Mineau, works to promote family values for the good of all people in our society. Among their current priorities is the campaign against physician assisted suicide. Each year, the banquet features a prominent pro-family speaker. This year, we heard from former U.S. Secretary of Education Bill Bennett. He gave a very inspiring talk. Among those recognized at the dinner was Mary Roque, an elder law attorney from Medfield, who produced a video on physician assisted suicide.
IPC dinner
Then, in the evening (10/13), I attended the fundraising dinner at Florian Hall in Dorchester to support the Irish Pastoral Center. This year, the Center honored Father Dan Finn, Pastor of St. Mark and St. Ambrose parishes in Dorchester, who was very instrumental in the foundation of the Center and has worked with them for many years. He gave a wonderful talk and has a great memory for reciting lyrics. He began with Father Faber's "The Faith of our Fathers" and then he went into Joseph Mary Plunkett's famous poem "I see his blood upon the rose." He ended up singing Irish ballads, to the delight of all the people there.
Cushing Awards dinner
Sunday evening (10/14) was the annual St. James Society Cardinal Cushing Awards Dinner. Cardinal Cushing founded the St. James Society just over 50 years ago. Pope John XXIII had asked religious and priests from Canada and the United States to help the Church in Latin America. One of the responses to that invitation was the St. James Society. Since that time, over 300 priests have served in the society. Not only has it been a great benefit for the Church in Peru, Ecuador and Bolivia but also for the archdiocese, because for many decades those priests who returned from the missions then worked with our own Hispanic population in the archdiocese. This year, they honored three people with long-standing relationships to the St. James society: Father Peter Quinn, Dr. Martin Dunn and Sister Carlotta Gilarde. All three honorees gave inspiring testimonies as they were presented with the Cardinal Cushing Award.
Page 1 of 2