When going gets tough, pro-lifers keep going
---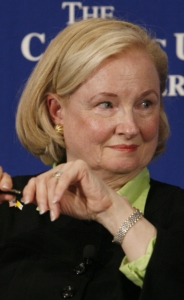 Professor Mary Ann Glendon is pictured in a 2009 file photo in Washington. CNS photo/Paul Haring
RANDOLPH -- Despite some recent setbacks, the pro-life movement has gained ground in the place it matters most -- the hearts and minds of the American people, Mary Ann Glendon, professor of law at Harvard, told those gathered at Massachusetts Citizens for Life's (MCFL) annual fundraising banquet on Oct. 19.
The most recent polls show that an unmistakable (if slight) majority of Americans are pro-life and that the large majority, 75 percent, are opposed to abortions for 95 percent of the reasons they are performed, said Glendon, who served as the U.S. ambassador to the Vatican from 2008-2009.
This year's banquet, held at the Lantana in Randolph, marks the beginning of MCFL's 40th year. Glendon called the current pro-life challenges "more sinister" than founders of MCFL ever dreamed possible.
In Massachusetts, the biggest challenges are the possible legalization of physician assisted suicide and the destruction of human embryos for research, which receives state funding. In the case of both, advocates use the same rhetoric as pro-abortion lobbyists. They call for "choice" and "compassion," and they often highlight cases of unusual hardship, she said.
She said just as "abortion for health reasons soon became abortion on demand," the weak safeguards that accompany assisted suicide laws disappear rapidly. In the Netherlands, there are now mobile units that administer deadly poison. Glendon warned, "Someday that truck you hear rumbling down the street might not be the ice cream man." If more than half of commonwealth voters approve of Question 2 on Nov. 6, doctor prescribed death will be legal as of Jan. 1.
In the case of embryonic stem-cell research, the calls for "compassion" ring hollow from researchers who hope to strike gold. "Truth be told, the priorities of researchers often have as much to do with the race for patents and profits as they do with the race for cures of dreaded diseases," she said.
Glendon also decried the "veritable tsunami," nation-wide, of attacks on faith communities. Such attacks hit close to home when Catholic Charities of the Archdiocese of Boston was forced to give up its adoption services in 2006 because the religious organization could not in good conscience place children with same-sex couples.
The focus of Glendon's ire was the U.S. Department of Health and Human Services mandate that requires employers to pay for health care that includes sterilization and abortion-inducing drugs. Churches are exempt, but other conscientious objectors must comply or face crippling fines. The standard religious exemption has been tossed out the window, and in its place is a narrow definition of what constitutes a religious employer, she said.
"We are witnessing an attack on the social institutions that serve as buffers between the individual and the all-powerful state," Glendon warned. Religious providers of education, healthcare and social services will close down or be forced to become tools of the government.
Page 1 of 2