Perils of assisted suicide emphasized at convocation
---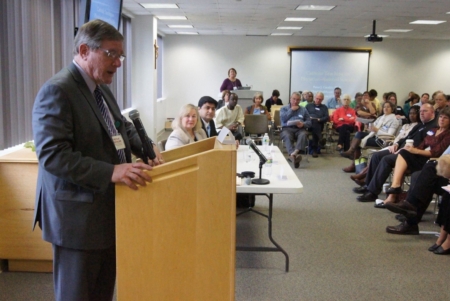 Peter Cataldo, chief healthcare ethicist for the Archdiocese of Boston, opens a panel on physician assisted suicide at the Pastoral Center in Braintree during the fourth annual Archdiocesan Justice Convocation. Director of ethics for Covenant Health Systems M.C. Sullivan and chief palliative care specialist at St. Elizabeth's Medical Center Dr. Asif Merchant prepare to speak and take questions from the crowd as panelists. Pilot photo/Christopher S. Pineo
BRAINTREE -- Around 200 local Catholics gathered at the Pastoral Center Oct. 27 for the fourth annual Archdiocesan Justice Convocation, themed "Celebrating the Social Justice Dimensions of Vatican II."

The convocation featured a keynote address from archdiocesan secretary for Health and Social Services Father J. Bryan Hehir, a panel discussion with medical ethicists on resisting physician assisted suicide in Massachusetts, breakout sessions on topics related to social justice, and a Mass celebrated by Cardinal Seán P. O'Malley at Bethany Chapel.

Breakout sessions focused on Catholic social justice efforts in prison ministry and criminal justice, global poverty, refugee and immigrant populations, environmental justice, and youth ministry.

Pat Dinneen, chairperson of the Archdiocesan Pastoral Council Social Justice Committee, welcomed participants to the convocation.

The promotion of advocacy, engagement in the fight to defend human life from physician assisted suicide and the growth of networking as a way to forward social justice work in the archdiocese were the three objectives the convocation intended to encourage, she said.

"Look around you. Get to know your neighbors. Encourage one another. There are so many people in this room, and beyond, who are doing good works," Dinneen said.