Area fifth graders visit 'alive and well' seminary
---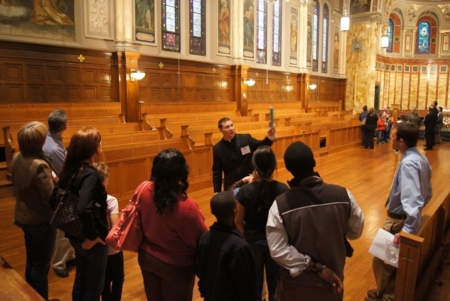 Second year pre-theology seminarian Kevin Leaver leads a tour for fifth-graders and their families at St. John's Seminary in Brighton on Oct. 28.
BRIGHTON -- Father Chris O'Connor, vice rector of St. John's Seminary, welcomed a group of 120 guests, as fifth-grade students and their families braved the impending Hurricane Sandy, to encounter the world of the seminary first-hand in Brighton on Oct 28.

"We will keep everyone affected in any way by the storm in our prayers. But, we thank you for being brave in venturing out to join us in our lovely, beautiful seminary," he said.

He moved straight into educating the group on the seminary and those who have studied there over the years since it was built over the course of three years from 1881 through 1884, under Archbishop John J. Williams.

"This seminary most likely was the seminary in which your pastor or your priest was trained, where he learned how to be a priest. We are very grateful to our fifth-graders in particular for joining us. The reason we are inviting fifth-graders is in most religious education programs this is the year that you study the sacraments. We all know that one of those sacraments is what?" he asked.

"Holy Orders or the priesthood," he confirmed an answer from one student.

After the greeting, seminarians broke the guests into smaller groups for tours of the seminary and part of the grounds.

Before sending the groups off, Father O'Connor laid out an important ground rule. Fifth graders who knew the answers to questions asked by their "tour guides" got a piece of candy.