Archdiocesan affiliates gather to discuss operational best practices
---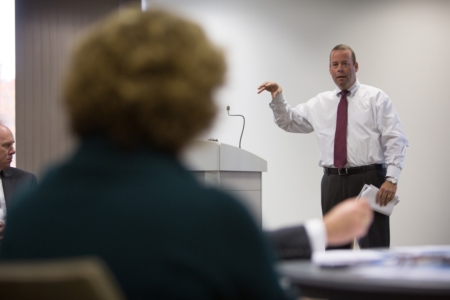 Paul Kiley from McGladrey LLC addresses the archdiocesan affiliates on organizational effectiveness and financial controls at a workshop held at the Pastoral Center Nov. 2. Pilot photo/George Martell
BRAINTREE -- More than 25 leaders of archdiocesan affiliates gathered at the Pastoral Center on Nov. 2 to create connections, learn about archdiocesan resources, discuss common challenges, and review operational best practices that increase organizational sustainability.
In attendance were representatives from archdiocesan schools, including Cristo Rey Boston, Trinity Catholic Academy, Pope John Paul II Academy and Marian High School, and from Church ministries such as the Planning Office of Urban Affairs, Regina Cleri Residence, iCatholic Media, Pontifical Mission Societies, St. Ann's Home, Life Resources and the Massachusetts Catholic Insurance Group.
Cardinal Seán P. O'Malley began the session with Mass in Bethany Chapel commemorating the Feast of All Souls Day. "We are here to learn best practices at being effective stewards of our temporal goods," he stated in his homily. "Effective stewardship today involves strong boards, transparency, and a good system of internal controls."
He concluded his homily by asking attendees to consider their important roles in working for Church agencies. "As we commemorate on this First Friday all the souls of the faithful departed, we remember all of the good stewards who have gone before us making our archdiocese a more effective beacon of hope to so many that we serve. May you and your organizations continue to provide faithful service to all the people in the archdiocese of Boston for many years to come."
After Mass concluded, Chancellor John Straub began the workshop in the Pastoral Center auditorium. Straub said the meeting was a follow-up to a June session for affiliate leaders and trustees that discussed common practices of successful organizational leadership. Joseph C. Mahoney, a partner at McGladrey LLP, which moderated the workshops, added that agency and school directors remarked at the June session that they would benefit from a peer discussion on some of the key topics.
Paul Kiley, a risk management director at McGladrey, then led the group in a discussion of the challenges addressed in June such as limited resources, board engagement, competing priorities and finding great staff members on a limited budget. Attendees shared ideas for effective board briefings, stakeholder updates, and effective internal financial controls when there is a small financial staff.
McGladrey was selected by the chancellor's office to moderate the session because they have a particular expertise in not-for-profit consulting, tax and audit work.
Maureen Creedon, archdiocesan director of finance, said that, "Joe (Mahoney ) and Paul (Kiley) both volunteer their time with archdiocesan entities, so they are familiar with us and understand the challenge of balancing the organization's mission with appropriate governance and controls. We are grateful for the time and expertise McGladrey has so generously provided."
Page 1 of 2