From Cardinal Seán's blog
---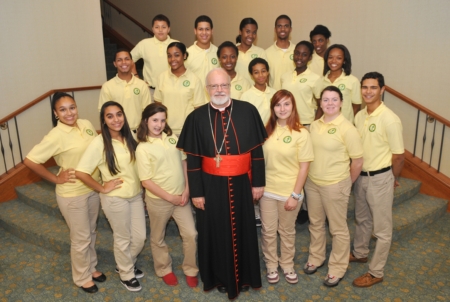 'Tuesday (10/30), I went to the 11th annual 'Partnership for Success' dinner for friends of Cathedral High School.' Pilot photo/CardinalSeansBlog.org
Upon my return from Rome on Friday (10/26), I met with all the Boston seminarians and Father Paul Soper at the Cathedral of the Holy Cross. We prayed a holy hour, vespers and dinner. Father Soper made a presentation on pastoral planning and the New Evangelization. We had a dialogue with the seminarians, which was very interesting

Mass in Peabody

Later that day (10/27), I went to Peabody for a Mass at St. Adelaide's to close the 50th anniversary celebration there. We blessed a picture of St. Adelaide. The music program was beautiful. They had several musicians playing trumpets to accompany the choir. It is a very lively parish with lots of young families, and I was happy to be a part of their celebration.

Blessing in Somerville

On Sunday (10/28), we went to St. Ann's in Somerville for the blessing of a new handicap accessible entrance and elevator and the moving of a tower bell. They had renovated the church just beautifully. The Mass was trilingual for the Haitian and Latin American communities. They had wonderful choirs singing Spanish, English and Creole French. Father Brian McHugh has done an extraordinary job in the parish there. The church looks stunning. It was very, very crowded. The singing was just beautiful.