Office for Black Catholics presents 2012 Bishop Healy Award
---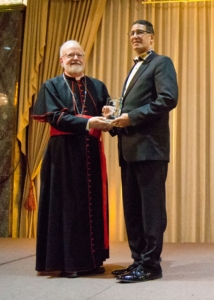 Cardinal O'Malley presents the 2012 Bishop James Augustine Healy Award to Anthony S. Owens of Roxbury. Pilot photo/Christopher S. Pineo
RANDOLPH -- Friends and supporters of the archdiocese's Office for Black Catholics gathered for their annual Bishop Healy Award Dinner Nov. 3 at The Lantana in Randolph.

The theme for the evening was "Be doers of the word, not hearers only," drawn from the Letter of James 1:22.

"Every year the Bishop Healy Award dinner gives us the wonderful opportunity to recognize some fine people within our community who exemplify qualities that we hold in mind such as strength in leadership, such as strong faith, and a wonderful identity as a Catholic. This year we truly are celebrating two people who are 'doers of the work,'" director of the Office of Black Catholics Lorna DesRoses said, before Cardinal Seán P. O'Malley presented the awards.

The Bishop James Augustine Healy Award is given in honor of the legacy of the first recognized black bishop in the U.S. and is presented to an individual who has exemplified strong, effective leadership and service within the Black Catholic community.

The recipient of the 2012 Bishop Healy Award was Anthony S. Owens.

Owens is a member of St. Mary of the Angels Parish in Roxbury, where he served as a member of the parish council, helped other parishioners create a food pantry, and established a relationship between the church and the Boston Symphony Orchestra -- which linked the church and communities through classical music.