From Cardinal Seán's blog
---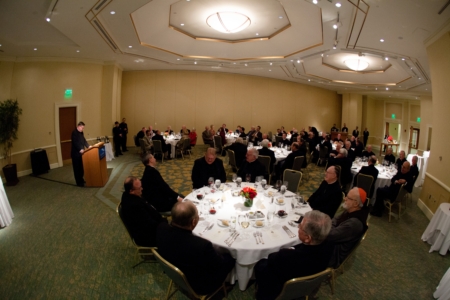 'On the eve of the ordination we participated at a dinner organized by the local alumni of the North American College.' Pilot photo/CardinalSeansBlog.org
Last Friday (1/4) we celebrated the Episcopal ordination of Bishop Robert P. Deeley. On the eve of the ordination we participated at a dinner organized by the local alumni of the North American College. In addition to priests from the archdiocese who are graduates from the North American College and visiting alumni from NAC, Bishop Deeley's classmates who were celebrating the 40th anniversary of their priestly ordination were a part of the dinner -- along with Bishop Deeley's family. Many of his relatives from Ireland were also part of the celebration. At the dinner, following NAC traditions, they offered three toasts, one for the Holy Father, one for the United States, and one for the college itself. One of the toasts was offered by Deacon Tom McDonald, one of our own seminarians who is presently enrolled at the North American College, and was home on Christmas break. The other two were offered by Bishop Kennedy and Father David Berberian of Albany.
Mass for survivors of abuse
Each year I celebrate a Mass for the survivors of sexual abuse and their families. This year I celebrated it on Saturday (1/5) and I was accompanied by Father John Curry, Father Steve Madden, the acting director of the Office of Pastoral Support and Outreach June Chin, and Deacon Paul who also works in the office. Sunday I left for Knoxville, Tennessee to celebrate the funeral for my father's sister, my aunt Marie O'Malley. It is not easy to get to Knoxville, so I had to travel Sunday afternoon. I was disappointed that I was unable to celebrate the Mass for Laboure College that is marking its 120th anniversary. Father Vincent Daily, pastor of St. Gregory's, celebrated the Mass in my stead. I was told that over 150 administrators, faculty, students and alumni attended the Mass. Laboure College has a great school spirit and is very committed to training nurses with a Catholic understanding of health care. They are expanding by moving to the former Aquinas College campus in Milton and will use the current facilities at Carney Hospital as clinical space.
Funeral Mass for my Aunt Marie
Page 1 of 2