Redesigned edition of the Pilot Catholic Directory is 42 percent more efficient
---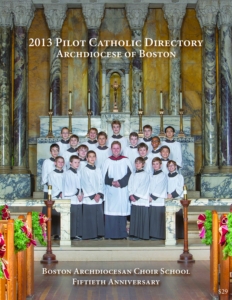 BRAINTREE -- The 2013 edition of the Pilot Catholic Directory, arriving to parishes in the archdiocese this week, has been redesigned in response to a recent survey of priests, religious and lay staff of the parishes and central ministries of the Archdiocese of Boston.

The survey indicated that printed directories of archdiocesan information are still valuable even in the era of the internet. Antonio Enrique, editor of The Pilot which prints the Directory, said that even directory readers who are used to looking for information on line, still find the directory the easiest way of finding information about the archdiocese.

"They like having a reference manual with all the contact information for archdiocesan organizations on their desks and, even the technologically savvy among us, still can find a phone number or email address more quickly through the Directory than through an internet search."

The survey feedback also indicated that those receiving the Directory would like it to be laid out as efficiently as possible to conserve environmental resources. "Back in the spring we put together a group that studied diocesan directories from across the country for new ideas for the layout of particular sections," remarked Scot Landry, Archdiocesan Secretary for Catholic Media. "The net result is a directory of 340 pages this year, versus 580 pages last year, a savings of 42 percent in terms of paper."