MCFL speaker to discuss defections among abortion industry workers
---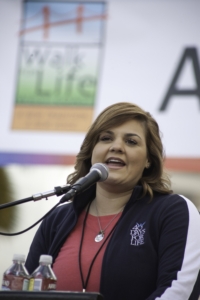 Abby Johnson, a former Planned Parenthood clinic director, speaks during the Walk for Life West Coast in San Francisco in 2011. Johnson will speak at the Massachusetts Citizens for Life (MCFL) Assembly for Life on Jan. 27 at Faneuil Hall in Boston. CNS photo/Jose Luis Aguirre, Catholic San Francisco
Members of the Pro-Life community often view abortion clinic employees as lepers, said Abby Johnson, former Planned Parenthood director and pro-life activist. She said of those workers, "They are seen as people we can't touch, people we can't reach."
In June last year, Johnson changed that. She started And Then There Were None (ATTWN), an organization dedicated to helping those in the abortion industry to leave. So far, 42 men and women have been assisted -- one of them from Massachusetts.
Johnson will be speaking at the Massachusetts Citizens for Life (MCFL) Assembly for Life on Jan. 27 at Faneuil Hall in Boston.
ATTWN success stories include three abortion workers from a Houston clinic and five from a clinic in Atlanta, leaving just two clinic employees there. Johnson said that such an exodus "cripples" an abortion facility.
There are about 650 abortion clinics in the country, and Johnson estimates that there is an average of about five employees per facility. That would make about 3,300 abortion clinic employees in the United States. According to those figures, over one percent of abortion workers have reached out for help in the first six months of Johnson's ministry.
The assistance they receive ranges from emotional to financial support. They qualify for up to three months of financial assistance, help with finding another job, free legal counsel and a spiritual advisor of their choosing.
Johnson never wants a lack of funds or fear to chain someone to the abortion industry. Crises pregnancy centers support women who feel trapped, and ATTWN seeks to do the same for abortion clinic workers, she said.
Johnson stressed that it is difficult for employees to leave the abortion industry. They are typically high-paid and tend to work in areas marked by economic hardship. They leave behind a support network and financial security during a difficult time to find work. Some of the women Johnson has helped are single mothers.
In addition, many workers have not been honest with family about their employment. Sometimes no one in the family knows where they have worked, Johnson said.
"There's so much secrecy in the abortion industry. A lot of times the workers are hesitant to come forward because they don't want to expose themselves to people they have, ultimately, been lying to," she said.
ATTWN's motto is "No abortion clinic workers, no abortion clinics, no abortions. It starts with the workers."
Some of the people helped by the organization have reported their clinic's violations to authorities. At one facility in Muskegon, Mich., the subsequent investigation closed the clinic doors for good on Dec. 26.
Page 1 of 2