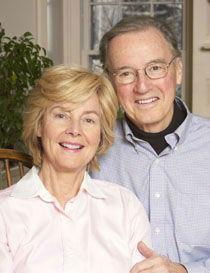 A lens on 2013
---
We met in 1963 and were married the following year. Sociologists describe that era as a golden era for the country, when the USA was at the top of its game. Our economy was in high gear and still supplying the world with goods that World War II had denied it. As a nation, we were widely respected. People admired our culture, or what they called at the time, "the American way of life."

As a national community, America had an exceedingly high level of cultural and moral consensus. Half of the respondents in a 1963 survey reported that they went to church at least once during the preceding seven days. Only 1 percent answered "no preference" to the question about their religious affiliation. Figures are lacking, but we estimate that among Catholics, weekly Mass attendance was around 90 percent.

Marriage was a near-universal phenomenon in 1963 and the divorce rate was in the low single digits. Only 20 percent of America's married women with children were in the work force.

"The Pill" that went on sale in 1960 was still a rarity, particularly among our co-religionists. The sexual revolution was still five or 10 years away. Our few unmarried friends who were sexually active and became pregnant did what most other Americans did: They went to the altar, married and worked to make a happy home for their child. As far as we've been able to tell, they have lived fulfilling and productive lives.