Three ordained transitional deacons
---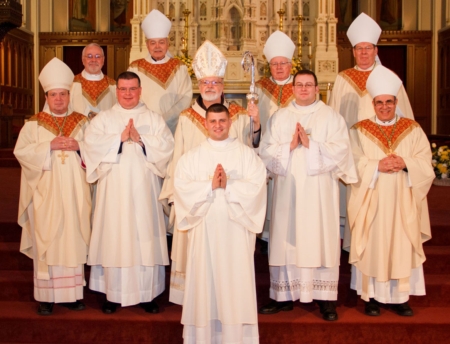 Newly ordained transitional deacons John A. Cassani, Gerald A. Souza and Christopher W. Wallace are pictured with Cardinal O'Malley, bishops and vicars following their Ordination Mass Jan. 19. Pilot photo/ Christopher S. Pineo
SOUTH END -- Cardinal Seán P. O'Malley ordained three transitional deacons on Jan. 19 at the Cathedral of the Holy Cross in the presence of family, friends, seminarians, clergy and religious.

"As deacons and future priests Christ is calling you to be his shepherds," Cardinal O'Malley said in his homily.

Deacons John A. Cassani, Gerald A. Souza and Christopher W. Wallace received ordination as the last major step toward ordination to the priesthood.

"We all look forward to their priestly ordination during this Year of Faith," the cardinal said.

The three new deacons, along with their classmates Deacon Jacques A. McGuffie and Deacon Thomas K. Macdonald, are scheduled to be ordained to the priesthood in June.

The deacon, from the Greek "diakonos" meaning servant or minister, is the first of three ranks of ordained ministry in the Church. Among the many functions they perform in parishes, deacons may preside at baptisms, weddings and rites of Christian burial, assist the priest at Mass, proclaim the Gospel and deliver homilies.