Hundreds gather to support Blessed John XXIII National Seminary
---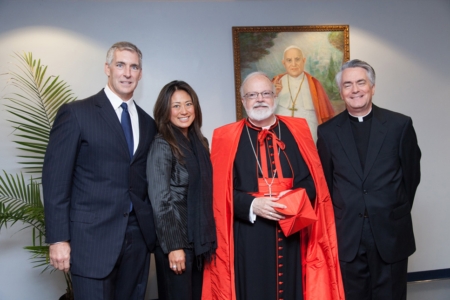 Lawn Party chairs Scott and Mia Gieselman pictured with Cardinal Seán P. O'Malley and Blessed John XXIII rector Father William Palardy at the seminary's annual Lawn Party Sept. 25. Pilot photo/courtesy John Gillooly, Professional Event Images
WESTON -- Despite coming to his second vocation at the age of 58, seminarian Kevin Hickey said he approached it with the faith of a little child.

"What we want and what God wants of us is not always the same. Sometimes you've got to take that leap of faith. It's like the child standing on the pool's edge with the daddy in the water," he said. "Sometimes we have to have that same trust in God."

Hickey is one of five men studying at Blessed John XXIII National Seminary in Weston who will be ordained for the Archdiocese of Boston next spring. He spoke about his vocation at the seminary's annual Lawn Party Sept. 25. This year, the fundraising dinner attracted nearly 400 people, the most who have ever attended. Alumni came from as far away as Denver and Orlando.

"I'm so pleased to see so many people here to support this annual effort," former seminary rector Bishop Peter Uglietto told The Pilot. He said that he saw many people who have long supported the seminary as well as many new faces too.