Priests called to solidarity at annual convocation
---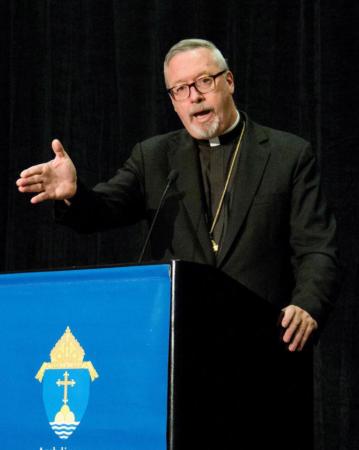 Indianapolis auxiliary Bishop Christopher Coyne addresses Boston priests at their annual convocation May 21. Pilot photo/Christopher S. Pineo
WALTHAM -- Indianapolis auxiliary Bishop Christopher J. Coyne spoke to nearly 200 priests of the Archdiocese of Boston at their annual convocation about the challenges and changes facing the priesthood as the wider Church changes. The gathering was held at the Westin in Waltham, May 21.

A Boston priest until being named auxiliary bishop of the Archdiocese of Indianapolis in 2011, Bishop Coyne spoke as a brother priest who once served as a professor and director of the pre-theology program at St. John's Seminary in Brighton.

Bishop Coyne said the Church no longer stands at the heart of a Judeo-Christian culture, but on the periphery of a secular-relativistic culture.

He called the new societal environment "mission territory," and encouraged unity within the priesthood as the Church reaches out through the new evangelization to a changing body of the faithful.

Bishop Coyne said the people served by priests have moved with time from being composed of mainly people of European descent living in the northern U.S., to being more Latino and living in the South and the West.

"The prayer of our Church is more and more one with a Spanish accent," Bishop Coyne said.