Cardinal ordains nine men to the priesthood
---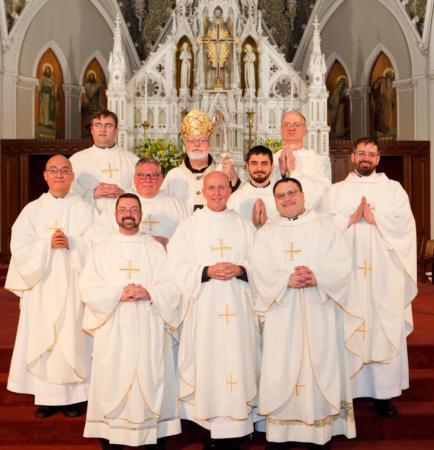 Newly ordained Fathers Jeffrey S. Archer, Steven Clemence, Peter F. DeFazio, George E. Fitzsimmons, Kevin T. Hickey, Karlo J. Hocurscak, Mark D. Storey, Laurence M. Tocci, and Jiwon Yoon pose with Cardinal Seán P. O'Malley following their May 24 ordination Mass at the Cathedral of the Holy Cross. Pilot photo/Gregory L. Tracy
SOUTH END -- Cardinal Seán P. O'Malley ordained nine men to serve as priests of the Archdiocese of Boston at the Cathedral of the Holy Cross, May 24. The group was the largest class in recent years and included the ordination of the first Brazilian-born priest for the archdiocese.

"Today is the largest ordination class in over a decade, so I am telling people that cold winters bring bumper crops. We need more cold winters. This has been a good year, so we are very thankful to God" the cardinal said in his homily.

The cardinal thanked a nearly full house at the cathedral for their support of the men, before he celebrated the Rite of Ordination to the Order of Presbyter for Fathers Jeffrey S. Archer, Steven Clemence, Peter F. DeFazio, George E. Fitzsimmons, Kevin T. Hickey, Karlo J. Hocurscak, Mark D. Storey, Laurence M. Tocci, and Jiwon Yoon.

He called upon the men to find courage in their ministry through the example of Christ and from each other.

"We will find that courage to lead God's people, only through our prayer life and the support of priestly fraternity. Without Him, we can do nothing. Without each other, we can do little," the cardinal said.

He gave the men encouragement to serve through hard times.