Local phase closes in sainthood cause of Opus Dei priest
---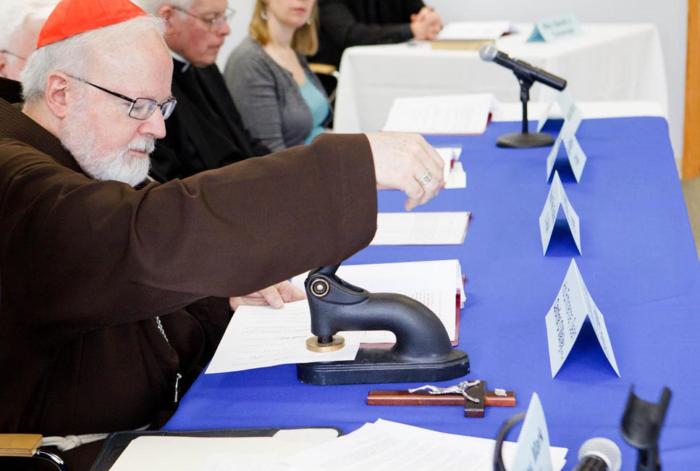 Cardinal O'Malley impresses his seal on a document to closes the local phase of the canonization cause of Opus Dei priest Father Joseph Muzquiz, May 22. Pilot photo/Gregory L. Tracy
BRAINTREE -- Cardinal Seán P. O'Malley presided over the closing session of the diocesan phase of the cause of canonization for Opus Dei priest Father Joseph Muzquiz, May 22, at the Archdiocese of Boston's Pastoral Center in Braintree.

The closing session ended the local stage in Father Muzquiz's cause of canonization and the process will now move to Rome.

"Although the process is just beginning, even reflecting on the holiness of life of this great priest is of benefit to all of us, and we pray that his cause will advance quickly and that others will continue to be touched by the testimony of his life and his holiness," Cardinal O'Malley said.

During the ceremony, the cardinal approved the evidence collected in the case -- a stack of boxes that contained over 9,000 pages of evidence detailing the life of the potential saint.

Father Muzquiz was born in 1912 in Badajoz, Spain. In college, he met St. Josemaria Escriva de Balaguer, the founder of Opus Dei, just before the Spanish Civil War broke out. He joined Opus Dei in January 1940, and was ordained as one of the first three Opus Dei priests in 1944.

At St. Josemaria's request, in 1949 Father Muzquiz came to the United States to start Opus Dei's apostolic work, first in Chicago, then in other cities. In the late 1950s, he traveled extensively, laying the groundwork for Opus Dei's beginnings in Asia, and then working in Rome, Switzerland and Spain.