Boston Area Order of Malta hosts newly installed Bishop da Cunha
---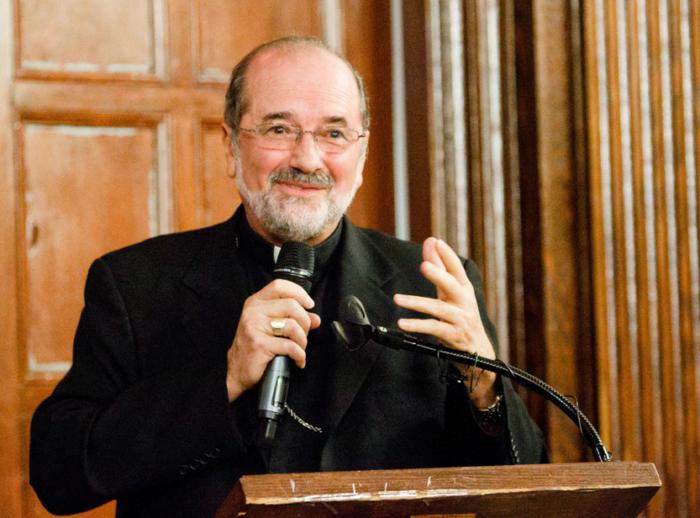 Bishop da Cunha addresses members of the order at the dinner held in the seminary refectory following the Mass. Pilot photo/Gregory L. Tracy
Making his first public appearance in the Archdiocese of Boston since his installation as the new bishop of the Diocese of Fall River, Bishop Edgar Moreira da Cunha was the honored guest and keynote speaker at the annual Boston Area Mass and Dinner of the Order of Malta on Oct. 9.

Knights and Dames and auxiliaries of the Order of Malta, as well as several prospective members, came from the entire New England region to attend the event held in St. John Seminary in Brighton. The evening began with a Mass in the seminary chapel, presided by Bishop da Cunha.

Speaking before the start of the Mass, St. John's rector Msgr. James Moroney welcomed the bishop "on behalf of each of us who seek to build up the Church."

The homily at the Mass was delivered by Msgr. Dennis Sheehan, a Magisterial chaplain of the Order of Malta.

He urged the congregation to persevere in their prayer life.

"Communication with other people, even in an age with so many electronic devices, can be frustrating," Msgr. Sheehan said. "If communicating with others is fraught with difficulty, communicating with God is even more so. We make prayer so often complicated and beset with all kinds of obstacles of our own imagining," he said.

"We're the ones who make prayer complicated. God keeps it simple. God cares. He cares more than we can imagine," he continued.